If you are preparing to start a job search for an HR generalist position, the first thing you should do is create your resume. This document may seem simple, but it determines whether or not the hiring manager thinks you can get the job done quickly and effectively. A strong resume is an absolute essential part of a successful job search.
But how can you know what a strong resume looks like? This is the exact reason we provide our HR generalist resume templates. Review the information here, as well as all the tips in this writing guide to get started.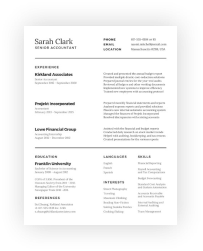 Free Human Resources Resume Templates for Industry Professionals
Browse templates and job-specific examples of professional human resources resumes.
How To Mention Your HR Generalist Experience
While you should focus on making your entire resume as strong as possible, there are some parts that are simply more important than others. For instance, the experience section is the core of the document, so you should take special care that this section is especially polished. Our HR generalist resume templates can show you where to start, such as by including action verbs.
• Lead recruitment cycles, identify employment needs, create recruitment documents, hold interviews, and select the best candidates
• Provide guidance to management staff on a daily basis, overseeing management performance of entire offices
• Performs office investigations each month, compiling all professional findings into compact and useful monthly reports
• Interact with all employees to resolve conflict, taking personal concern into account while following company policies
• Coordinate medical coverage for all employees, making sure to cover all needs while taking cost into consideration
HR Generalist Resume Tips
Now you have reviewed our HR generalist resume templates and learned all about what kind of content you should include in your own resume. You may start to wonder what your next step should be. This is exactly why we have put together this short list of excellent resume-writing steps:
1. Personalize Your HR Generalist Resume:
A personalized resume is always going to be stronger than a generic one. Review the job description carefully and look for skills and other language to include in your resume.
2. Write a Powerful Summary Statement:
The first impression employers have of you determines your chances of landing the job. Manage your first impression with your summary statement at the top of the document.
3. Use Specific Examples and Experiences:
You can effectively emphasize particular attributes while improving your credibility to your resume by including real examples and real metrics from your previous work experiences.