Firefighters are like modern superheroes who save people, property, and the environment from fires. The ability to control and extinguish fires requires physical strength, unyielding courage, and strong communication skills. Our firefighter resume templates are just what you need to draw the attention of hiring managers who need someone with your qualifications.
You can get a leg up on your competition with resume examples from real-life applicants, seeing the types of submissions that get results in your career field. Additionally, our team of professionals provides tips on placing your training and experience in the best light.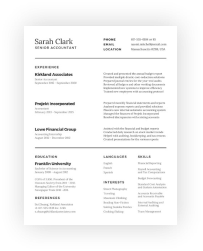 Free Law Enforcement And Security Resume Templates for Industry Professionals
Browse templates and job-specific examples of professional law enforcement and security resumes.
How To Mention Your Firefighter Experience
Firefighters must have a working knowledge of firefighting equipment and protocols. You must show prospective employers that you have skills in conducting drills, treating injured people, and using water hoses. Our firefighter resume templates show you how to spotlight your abilities by using power verbs and key phrases from the job listing:
• Refill BC dry chemical and water fire extinguishers, repair fire extinguishers, and monitor fire extinguish usage
• Prepare and record a variety of reports, such as incident reports of alarms, inspection reports, and preplans of occupancies
• Serve as a customer relations liaison by attending school events and special community functions on behalf of the department
• Participate in daily fire station functions, such as making crew assignments, cooking, housekeeping, and other assigned duties
• Respond to urgent calls and fire scenes by driving emergency vehicles and operating related equipment
Firefighter Resume Tips
You don't have to be a resume-writing expert when you use firefighter resume templates. You can hit the ground running by simply making a few changes. Plus, you don't have to go it alone. Expert advice from our contributors reveals the best practices for creating a document that hiring personnel can't ignore.
1. Personalize Your Firefighter Resume:
One of the most important decisions you can make is choosing the best layout. Generally, the chronological format is ideal in most situations. It lists your employment in reverse order, starting with your current or most recent job.
2. Write a Powerful Summary Statement:
You have six seconds to persuade a recruiter to keep reading your resume, so wow the reader with this three- to five-sentence paragraph. Include your background, skill set, and career successes. Explain what you bring to the table.
3. Use Specific Examples and Experiences:
Don't skimp on work-related details. Paint a picture for the reader that illustrates how well you excel in a work environment. Focus on your accomplishments and how you used your skills in your role. Mention accolades, promotions, and awards as well.