Military personnel serves in the Army, Air Force, Navy, Marines, and Coast Guard. In many cases, military service members find employment in the civilian world working in a variety of occupations ranging from doctors and lawyers to nurses and security officers. Individuals with a military background often have good physical stamina, mental preparedness, and leadership skills. You can showcase these valuable attributes by using our military resume templates.
These real-world documents provide a framework for building your own resume. Tips from our expert contributors serve as a guide to helping you make the right edits so your training, skill set, background, and work history stand at attention in the eyes of recruiters.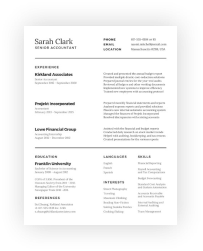 Free Law Enforcement And Security Resume Templates for Industry Professionals
Browse templates and job-specific examples of professional law enforcement and security resumes.
How To Mention Your Military Experience
Military service people work in different areas, such as transportation, protective services, and healthcare. When seeking a position, it's important that you use descriptive language in your document. One of the most effective ways to do this involves mimicking the language used in employment listings and using power verbs. Our military resume templates illustrate how to describe your work experience:
• Handle phone calls and face-to-face interactions with the public with politeness, respect, tact, poise, and courtesy
• Take emergency safety precautions required to protect Air National Guard assets against harm or hostile forces, per base plans
• Search institutional property inside jurisdictional constraints within the stated provisions of relevant policies, directives, and laws
• Patrol structures and grounds by vehicle patrol and foot patrol inside the base region, ensuring the security of controlled areas
• Manage and report discoveries for clients seeking Congressional Clearance Inquiries and Freedom of Information Act (FOIA) requests
Military Resume Tips
Military resume templates make crafting a top-notch resume easy. These documents include professional summary, skills, experience, and education sections to get you started. Apply our expert advice and writing tips so you can develop a document that far outranks your competitors and makes you the first choice for the job you seek.
1. Personalize Your Military Resume:
Set yourself apart from the other candidates by giving hiring personnel the information they need. In other words, read the job ad, pick out job-specific keywords, and place them throughout your resume.
2. Write a Powerful Summary Statement:
Prospective employers want to know how you can benefit their companies. With that said, write a professional summary touting your value. This paragraph ranges between three and five lines and focuses on your related skills, attributes, experience, and accomplishments.
3. Use Specific Examples and Experiences:
Hiring managers want examples of how well you performed your job. Provide details about your experience that focus on results, accomplishments, or measurable outcomes. Include numerical data and percentages as needed.