Good judges get to the heart of legal matters to render a fair verdict. Likewise, a good resume pinpoints the aspects of the applicant that matter most to recruiters to get the applicant the job. Our judge resume templates let you showcase the experience that makes you the best candidate for the job you seek.
Our resume-building tools help you craft a rough outline, and the tips we offer can help you edit your document. You can be confident that the final copy you create reflects that you are a great fit for the position.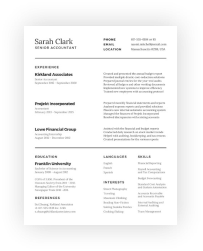 Free Legal Resume Templates for Industry Professionals
Browse templates and job-specific examples of professional legal resumes.
How To Mention Your Judge Experience
The job of a judge involves presiding over legal proceedings to make sure they run smoothly and in accordance with the law. Judges follow precedent and draw from their extensive legal experience to make fair decisions. When you are listing the duties that best qualify you for a judgeship, follow the examples in our judge resume templates, using action verbs and language that closely matches the job description to make your case:
• Research former cases and legal stipulations to place proceedings in appropriate context
• Preside over hearings and trials to ensure that they run efficiently, and protect the legal rights of all involved
• Evaluate evidence presented to determine whether a trial should proceed and the terms of a convicted defendant's punishment
• Impose just sanctions for crimes committed and award fair compensation to victims of those crimes
• Write opinions on cases to analyze the arguments for or against the way the case was ultimately decided
Judge Resume Tips
It doesn't take many tweaks to take your resume from "good" to "great." Each judge resume template provides guidance on how to make a basic document to make it more relevant to the position you want.
1. Personalize Your Judge Resume: Each job posting hints at the keywords recruiters are looking for when they read your submission. Pepper your final draft with these keywords to show how well you match the position.
2. Write a Powerful Summary Statement: Popular jobs draw a lot of applicants. Stand out amongst the crowd with a strong statement at the top of your resume that shows prospective employers that they don't want to pass you by.
3. Use Specific Examples and Experiences: Every job you've had provided the opportunity to put your name on the legal map. List specific instances where you took advantage of those opportunities to distinguish yourself from other applicants.