We have a large selection of library resume templates. Find specialized resumes for archivist, circulation, and curator positions. Choose from librarian templates featuring text written by real jobseekers. No matter which library job you want, you can customize a relevant template to create a resume.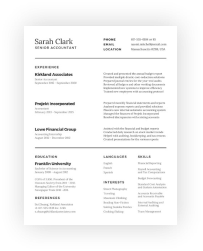 Free Library Resume Templates for Industry Professionals
Browse the best templates for library jobs with text examples for your specialization.
Find the Perfect Library Resume Templates
There are many types of libraries and even more varieties of library jobs. Whether you want to become a librarian or have archival training, we make it easy to choose the right resume template for your career. Experts dispute a report claiming that the number of library positions will plummet by 2030, but it is clear that digital technologies are changing libraries. More library jobs now call for computer skills, and the forecast for specialized archivist or curator positions is encouraging.
We have outstanding library resume templates for these library careers as well as for customer-service-oriented positions in circulation services. Browse or search our templates to find the best layout for your job search. You can customize them to create your own professional document. Our samples feature text written by real applicants for library positions.
Whether you are looking for content or formatting ideas, start with our templates. Each one includes a sample header and a summary or objective statement. We also make it easy to fill out the qualifications, experience, and education sections of your resume. Job-specific text from real users enables you to include the right skills to land the library job you want.
Additional Popular Library Resume Templates
If you are applying for another type of library position, we may have a resume template that is better suited for aiding you in your job search. Browse or search our extensive collection of library resume templates to see samples of resumes for many other jobs in libraries.
Additional Library Resources
: This library and information science wiki has advice on how to apply for a library job.
: The American Library Association job list is a great place to start your search for a library position.
: INALJ or I Need a Library Job is a blog about library life that may help you determine whether a career as a librarian is right for you.