If you want to avoid a prolonged and discouraging job search, you need to dedicate time and effort to building a standout resume. This document should identify your top skills and display powerful work experience descriptions so hiring managers know you are adept at managing the responsibilities that accompany a librarian role.
Begin the task of constructing a compelling resume with confidence and clear guidance. Our real-world librarian resume templates, in addition to our helpful writing and organizing tips, help you navigate the tricky world of resume-writing until you have a finished text worthy of your pride.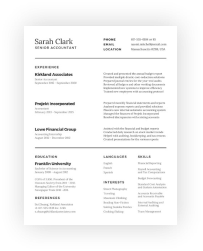 Free Library Resume Templates for Industry Professionals
Browse templates and job-specific examples of professional library resumes.
How To Mention Your Librarian Experience
As our librarian resume templates exemplify, it is essential that your document shows your experience in managing the various duties of a librarian. Keep in mind that how you phrase such experience is just as important. Write descriptions similar to those below that incorporate strong verbs and specific language from the job posting.
• Check books and other reading materials in and out of the library with correct cataloging processes
• Use library resources to assist patrons in researching, finding, and using books and reading materials
• Maintain accurate library inventory and ensure computerized databases and cataloging systems are free of errors
• Work with colleagues to achieve smooth daily operations and provide the public with educational programs
• Conduct regular meetings to analyze requests from the public and make informed decisions regarding additions to the library's collection
Librarian Resume Tips
There are plenty of resources that can simplify and expedite the resume-writing process. In addition to these resume writing tips and our librarian resume templates, check out the following small but critical steps. They can help you boost your document's appearance so employers remember you when choosing whom to interview.
1. Personalize Your Librarian Resume:
A generic resume may kill your chances of getting the job. Show you want the specific position in question by including keywords from the job advertisement in each section of your document.
2. Write a Powerful Summary Statement:
Use this section to pique the interest of prospective employers. Provide a concise snapshot of your qualifications and professional successes to show why the library needs to have you on staff.
3. Use Specific Examples and Experiences:
Do not write a boring laundry list of past responsibilities. Show your cataloging, teaching, organizing, and researching skills in action with specific examples and success stories from prior librarian positions.