Creating a resume is not easy, but it is vital to successfully landing a job. Our simple, but powerful management resume templates and writing guide will explain everything you need to know to strengthen your resume and improve your chances of getting hired. Take a look before you begin writing.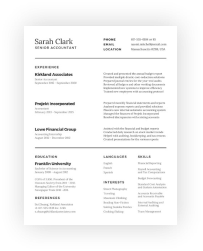 Free Management Resume Templates for Industry Professionals
Use this set of useful resume templates to create the most appealing resume possible.
Find the Perfect Management Resume Templates
You probably are not surprised to hear that your resume is most likely the most important part of your job application. Most jobseekers know that hiring managers rely on this document heavily to make their decision. What you may not know is that there is a lot you can do to make your resume stand out. First and foremost, you should review several management resume templates to see what makes a strong resume effective; a generic submission simply will not make the cut. There are specific aspects that appeal to hiring managers of certain fields. If you want to work in the management field, you should research management resume writing tips.
Remember that there are particular aspects that nearly all employers expect to see on every resume. These include skill, education, and experience information. The best way to include this information is extensively explored in the following guide. In fact, you can find information on how to describe these aspects for individual management positions. The U.S. Bureau of Labor Statistics shows that openings in management positions have stayed steady. This is the perfect time to jump into the field with a strong resume and application.
Additional Popular Management Resume Templates
We have provided jobseekers with management resume templates created by industry professionals. This gives you the best information possible so you know exactly what appeals to hiring managers in the management field. Many more resume templates for all sorts of positions are readily available for you to review.
Additional Management Resources
: This page, maintained by the federal government, offers a glance at the management industry as a whole.
: You can discover the specific skills and professional traits necessary to enter specific positions, such as executive.
: Greatly simplify the writing process by using this easy and intuitive resume-building tool.