Executives are the face and voice of the company. To prove you can perform at this level, you need a resume that shows not only a history of leadership and initiative but also the specific skill set needed to represent the company well. The executive resume templates give real-world examples from professional titans of industry.
Our resume builder can streamline the resume-writing process. We partner with real-world jobseekers to give you the best guidance for your career. With our contributors' helpful tips, your new and improved resume is ready to start working for you in a short amount of time.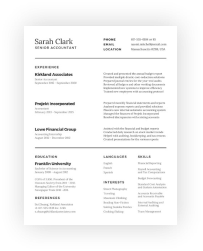 Free Management Resume Templates for Industry Professionals
Browse templates and job-specific examples of professional management resumes.
How To Mention Your Executive Experience
An organization's top-tier executives are the leaders who coordinate the operation of the entire company. As seen on our executive resume templates, you must understand the financial structure of the company as well as the human resources side of things. You should be prepared to demonstrate that you're a decision-maker whose qualifications mirror the job description. Your list of responsibilities should start with strong action words:
• Hire and supervise department heads as they carry out organizational, departmental, and individual goals for their respective offices
• Oversee financial well-being of the company and make recommendations for needed changes to the budget or reports
• Collaborate with other executives to analyze the effectiveness of the company's production rate and company morale
• Create and implement company policies, including hiring, onboarding, training, anti-discrimination, human resources, and exit procedures
• Act as a change agent when an aspect of the company's operation is broken or needs improvement
Executive Resume Tips
In conjunction with a well-written cover letter, your resume must catch the recruiter's eye if it is going to get you an interview. Follow the examples found in the executive resume templates as well as the tips our contributing professionals have to offer.
1. Personalize Your Executive Resume:
Word choice is important. Tailor each resume to the job you are trying to get. Use keywords and key phrases from the job description so that it shows you are the best match for the position.
2. Write a Powerful Summary Statement:
Recruiters should not have to look any further than your summary statement to know how well you would perform at the job. Make it a clear, concise statement of your best skills.
3. Use Specific Examples and Experiences:
Numbers are persuasive. When you talk about your executive experience, find a way to quantify your accomplishments. Cite growth percentages and specific revenue earned to give the complete story of your competence.