Jobseekers often have questions about various aspects of resume composition. It can be hard to figure out what information to include and what to leave out. Knowing some key rules can make the writing process smoother.
Keep in mind that the purpose of your document is to let prospective employers know you meet their requirements and will fit well within the company. Your resume should also engage readers and make them want to learn more about what you bring to the job. Our human resources resume templates offer some outstanding examples of professional documents that present employers with all the information they seek.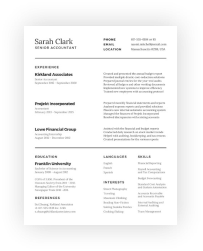 Free Management Resume Templates for Industry Professionals
Browse templates and job-specific examples of professional management resumes.
How To Mention Your Human Resources Experience
Human resources professionals must possess significant interpersonal skills, as well as the ability to understand a vast number of organizational rules and policies. Many employers also require or prefer various software proficiencies.
Your work experience section provides the bulk of information about your skills. Prioritize especially challenging or successful tasks, use varied, dynamic action verbs to start each entry, and mirror the language found in the job ad. Our human resources resume templates include some helpful examples:
• Analyze organizational policy and draft recommendations on changes or additions based on organizational goals and applicable laws and regulations
• Create and lead organizational initiatives to improve employee morale and productivity
• Review and update employee handbook and other workplace materials; address violations as per policy
• Administer workplace compensation, benefit, and incentive structures
• Resolve workplace conflicts according to organizational policy
Human Resources Resume Tips
Perfecting your resume does not have to give you a headache. Just keeping some fundamental principles in mind as you write can help you create a document that impresses employers and furthers your career goals. Our human resources resume templates exemplify several important techniques to help your application garner positive attention.
1. Personalize Your Human Resources Resume:
Invest the time to research each prospective employer, and carefully read the job posting. Using the same phrasing and emphasizing qualifications the employer prioritizes can move your resume to the top of the pile.
2. Write a Powerful Summary Statement:
This section can determine whether a manager will keep reading. To make the right impression, make your summary interesting and useful.
3. Use Specific Examples and Experiences:
Metrics and specific accomplishments show employers how you put your skills and knowledge to use.