Product managers follow products throughout their lifespan from conception to product end of life. Without the individual to oversee this process, the product may never come to fruition. Therefore, hiring managers look for specific skills and qualifications when searching for the right fit for their company.
When you apply to jobs, you must demonstrate that you meet the criteria. Before you try your hand at writing a resume, take a look at our real-world resume examples with our product management resume templates. This assists you in determining the best way to emphasize your best attributes so you make it to the next step.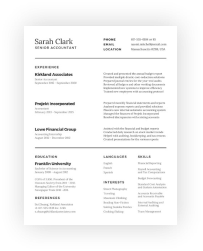 Free Management Resume Templates for Industry Professionals
Browse templates and job-specific examples of professional management resumes.
How To Mention Your Product Management Experience
Impressing hiring managers takes more than simply listing the duties and tasks from your previous positions. You also need to emphasize the value you would bring to the company through detailing your accomplishments.
Start by using compelling action words that make it easy for someone to picture you performing the action. Check out our product management resume templates for additional ideas, along with these examples:
• Perform market research to determine the viability of proposed products and forecast the results
• Collaborate with key teams, including quality control, sales, and marketing, to ensure a seamless process
• Develop an operating plan with growth objectives and prospective revenue
• Prepare long and short-term timelines to ensure product remains on schedule
• Analyze market data to determine competitive price points for finished products
Product Management Resume Tips
Although using product management resume templates provides a solid foundational on which to build, crafting an exceptional document takes a bit more effort. These resume writing tips help you to take your resume to the next level with minimal effort.
1. Personalize Your Product Management Resume:
Attract the attention of hiring managers by tailoring your resume to the job at hand. Emphasize the qualities you have that match the job description on the posting so the hiring manager recognizes you are a qualified candidate.
2. Write a Powerful Summary Statement:
Most resumes only receive a quick glance upon initial inspection. Hiring managers generally focus on the top half of the resume, so put your most attractive qualifications in a summary statement to make it past the first review.
3. Use Specific Examples and Experiences:
Do not simply list duties and tasks that every candidate will emphasize on his or her resume. Stand out through detailing your accomplishments, especially the ways in which you brought value to the company.