Candidates seeking employment as program managers need to demonstrate their ability to excel in positions that involves a high level of responsibility. Your resume is the perfect opportunity to describe past positions and projects that prepare you to succeed in a program manager role.
Learn how to portray your previous work experience to employers with resume-writing tips geared toward program managers. You can also browse our archive of program management resume templates. Compare your document with resumes from real jobseekers in this field to get a better sense of how to format your resume and include your qualifications.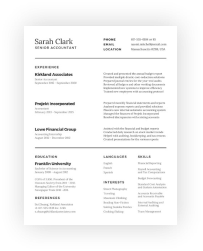 Free Management Resume Templates for Industry Professionals
Browse templates and job-specific examples of professional management resumes.
How To Mention Your Program Management Experience
Applicants for program manager positions should tailor their descriptions of work experience to the requirements for these roles. Whether you have experience managing programs or bring a different background to this career path, you should use keywords from the job description and action words that draw attention to your abilities. Refer to the sample responsibilities below and work history sections in our program management resume templates.
• Oversee program operation, manage employees, and establish expectations with regard to budget, schedule, and scope
• Monitor and track deliverables and milestones toward achievement of program goals with members and leadership
• Establish and maintain communication plan to coordinate all employees involved in program development or execution
• Manage recruitment and retention of contractors, members, and personnel involved on every level of program
• Prepare status reports by gathering, synthesizing, and communicating information about program goals and overall progress
Program Management Resume Tips
Program managers should describe past positions in ways that show they possess the abilities necessary for success. Customize your summary statement, skills section, and descriptions of previous work experience to reflect the requirements for a program manager role. Check out our program management resume templates to see real-world examples.
1. Personalize Your Program Management Resume: Look for ways to show that your skills and experience correspond directly to the requirements of a program manager job. Use significant language from the job description throughout your document.
2. Write a Powerful Summary Statement: Grab the attention of hiring managers or recruiters by mentioning major qualifications near the top of your resume. Cover the extent of your experience and skills in a few short phrases.
3. Use Specific Examples and Experiences: Make your resume stand out to employers by including relevant details about successful programs and personal achievements. Describing your contributions and their outcomes can emphasize your track record of success.