All employers want to hire someone who is effective and quick at his or her job. These are the qualities your resume needs to communicate to hiring managers. You cannot afford to underestimate how important this simple document is to making your job search successful.
Before you begin writing your resume, take the time to review an assembler and fabricator resume template. This allows you to see what writing techniques work, which information to include, and how to organize the document. We have provided you with a strong resume template alongside this comprehensive and helpful writing guide.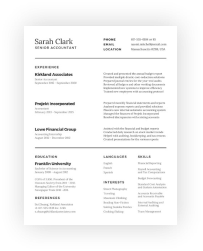 Free Manufacturing And Production Resume Templates for Industry Professionals
Browse templates and job-specific examples of professional manufacturing and production resumes.
How To Mention Your Assembler and Fabricator Experience
There is no denying that the experience section is one of the most important parts of your resume, but you may not realize that its organization is nearly as important as its content. Look at the experience section in the assembler and fabricator resume template. It should incorporate action verbs and aspects from the job description.
• Meet all production goals by planning out work in advance and meeting smaller, daily goals
• Run piping correctly and effectively, including stainless steel, aluminum, and PVC piping, on a daily basis
• Use prints and work orders to fabricate parts, adhering to safety precautions and quality standards
• Operate forklifts, side shaft, and other field standard heavy equipment expertly on a daily basis
• Examine all equipment, machinery, and fabricated parts to identify and correct errors, mistakes, or problems
Assembler and Fabricator Resume Tips
Before you begin writing your assembler and fabricator resume, take a look at these simple steps. Just like what you learned from the assembler and fabricator resume template, you should keep these practices in mind while you write. Doing so will ensure that your resume is as strong as possible.
1. Personalize Your Assembler and Fabricator Resume:
Take the time to personalize your resume for each new job you apply for. You can do this by including skills from each unique job description in your resume.
2. Write a Powerful Summary Statement:
A strong summary statement creates a good first impression, because this is the first thing employers see in your resume. You should spend extra time ensuring this section is strong.
3. Use Specific Examples and Experiences:
Finally, add in real examples from your work experiences in the resume. This allows readers to get a better idea of the kind of worker you would be if they chose to hire you.