If you are in the process of searching for a tester and inspector job, you should know all about how to put together a strong resume. Most hiring managers use this document extensively to decide which candidates to hire. Of course, the process of writing a stand-out and eye-catching resume is not exactly simple.
Our tester and inspector resume templates can help you get started. Your resume needs to make it clear that you work hard, efficiently, and quickly. There are many expectations the hiring manager has for your resume, so learn everything you can about the process.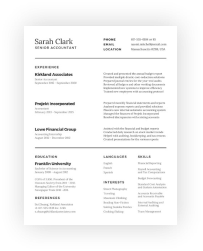 Free Manufacturing And Production Resume Templates for Industry Professionals
Browse templates and job-specific examples of professional manufacturing and production resumes.
How To Mention Your Tester and Inspector Experience
Each section of your resume serves a different purpose. The experience section communicates your abilities and skills, which makes it the most important part of the document. As you see from our tester and inspector resume templates, you need to include strong action verbs at the beginning of each bullet point.
• Inspect all finished products, ensuring they meet quality standards, as well as field safety standards
• Oversee production process and evaluate employee performance, ensuring employees complete all work correctly and precisely
• Interact with employees and other quality assurance workers to guarantee the completion of all products
• Inspect raw products prior to production, gauging quality and viability, making note of any imperfections
• Create monthly material order based on previous and predicted usage to guarantee a full stock
Tester and Inspector Resume Tips
The first step you should take to write your resume is review our tester and inspector resume templates. After that, however, how can you strengthen your resume as much as possible? Following these simple steps as you write is a good way to get started. They ensure that your writing is effective.
1. Personalize Your Tester and Inspector Resume:
You can customize your resume for each new job you apply for simply by reviewing the job description and including some of the skills you find there.
2. Write a Powerful Summary Statement:
The first section in your resume should be the summary statement. This section introduces you and determines the first impression hiring managers have of you.
3. Use Specific Examples and Experiences:
Your resume is not complete unless it has real examples. Think about times in your working experience when you exemplified a particular skill or professional attribute.