Conservation scientists play an important role in protecting the well-being of forests, national parks, and the many natural resources that keep communities healthy and vibrant. Getting your resume to do the same for you can be a bit trickier. With access to our conservation resume templates, however, you'll be on the right track.
We've provided expert advice on how to organize your own document and how to put your abilities into words. Take advantage of the professional writing resources we've pulled together to put yourself in the right position to continue protecting valuable natural resources.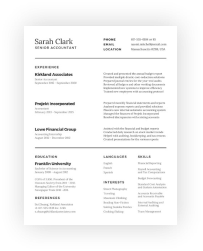 Free Natural Resources And Agriculture Resume Templates for Industry Professionals
Browse templates and job-specific examples of professional natural resources and agriculture resumes.
How To Mention Your Conservation Experience
Whether you hope to work as a government forester or engage in social advocacy, your ability to get the job you want hangs on how you describe your experience in your resume. Take a look at our conservation resume templates, and use them as guides to present your best skills with action verbs. Additionally, utilize phrases from the job listing.
• Conduct stream Ordinary High Water Mark determinations for delineation of wetlands and inventory presence of priority fish populations
• Assess sites for mitigation potential, recording detailed wildlife observations and surveying forage fish spawning sites
• Identify and obtain resources to improve conservation efforts, including community partners and business outreach programs
• Conduct personal investigation projects and support research of regional partners, effectively creating a smooth information exchange
• Collaborate with land managers, scientists, and other professionals working in desert conservation; create database for updating contact information
Conservation Resume Tips
Our conservation resume templates offer a great starting point for creating your professional document. You can then fine-tune your writing to make an impact. Use these tips regarding personalization, summary statements, and the use of specific examples to make a big difference in your results.
1. Personalize Your Conservation Resume:
Even if the work you hope to do is the same wherever you're hired, it's best to tailor your resume to each potential workplace. Use specific phrases from each job listing in your resume version for that agency.
2. Write a Powerful Summary Statement:
In the past, jobseekers often used an objective statement. Today, it's best to share your top skills in the first third of your page. The summary statement explains why you're the best person for the job.
3. Use Specific Examples and Experiences:
Choose some of your professional achievements that demonstrate your ability to do the job well. These examples should include specific numbers and results to show potential employers that you have the necessary skills.