As a florist, you're no stranger to taking flowers and greenery with many traits and combining them into a cohesive display. Your resume can do the same thing for you in a way that shows you can do your job well and efficiently.
We have a collection of well-written florist resume templates that demonstrate hard and soft skills, work experiences, and training in a single effective document. Write your own resume based on these templates, and then fine-tune it with advice from our professional contributors. You can create an engaging resume in just a few minutes.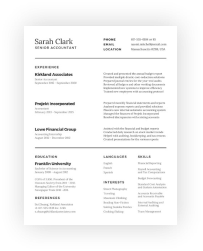 Free Natural Resources And Agriculture Resume Templates for Industry Professionals
Browse templates and job-specific examples of professional natural resources and agriculture resumes.
How To Mention Your Florist Experience
The way you phrase your achievements is just as important as putting those experiences into your resume. When you use strong action words and reflect the tone of the job listing, your resume tends to be more attractive to hiring managers. Use expert advice about how to describe humdrum job experiences and our florist resume templates to put your best skills right where prospective employers can find them.
• Rotate inventory to ensure freshness and make sure that customers only receive fresh flower and plant arrangements
• Organize and complete daily deliveries, making sure that all arrangements arrive on time and as promised
• Record specific instructions and preferences for each order so floral assistants can accurately prepare arrangements
• Keep sales floor and work area clean and assist in setting up seasonal marketing displays
• Analyze floral-industry trends to introduce unique designs on a regular monthly basis and complete display arrangements
Florist Resume Tips
Florists fill a variety of roles, including working with grieving customers to create floral arrangements for funerals and putting together corsages for eager students preparing for their first dances. Once you get the basics into your resume, boost the impact of the document with our florist resume templates, action verbs, and phrases from the listing.
1. Personalize Your Florist Resume:
With the general format in place, include specific phrases from the job listing. Tailor your resume to meet the specific needs of each employer. Use terms taken directly from the ad.
2. Write a Powerful Summary Statement:
Recruiters only spend a few seconds on each resume they read. A strong summary statement puts your best qualifications where they are easy to find.
3. Use Specific Examples and Experiences:
You may have many professional stories that demonstrate your ability to do your job well. Choose at least one of those stories, and then describe your achievements with percentages and specific ways you proved your value to employers.