Any new jobseeker should know how important their resume is. Many hiring managers use this document exclusively when choosing which candidates to interview. Plus, with so much competition for any job opening, you need a way to make your resume really stand out from the crowd.
Take a look at our ranch resume template. This allows you to see what a strong resume looks like and help guide you through the writing process. Your resume needs to be eye-catching and portray you as a quick and effective worker. Our resume sample does just that, so follow its example.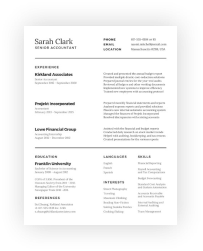 Free Natural Resources And Agriculture Resume Templates for Industry Professionals
Browse templates and job-specific examples of professional natural resources and agriculture resumes.
How To Mention Your Ranch Experience
Remember that your experience section is one of the most important sections in the document. In addition to needing strong content, you also need to think carefully about how you organize the information. Our ranch resume template provides you with more information, such as the importance of strong action verbs and using language drawn from the job posting.
• Reinforce fencing, evaluate the state fences are in, and ensure animals cannot pass or damage ranch boundaries
• Supervise animal handling, ensuring workers and guests interact with animals safely and respectfully
• Monitor supply usage, tracking when certain items get low, and place orders to refill stock
• Oversee the usage of ranch equipment, ensuring workers use equipment correctly to prevent damage or injury
• Perform ranch equipment maintenance, including lubrication and cleaning, to prevent unnecessary damage to ranch equipment
Ranch Resume Tips
The first step toward landing a job on a ranch is reviewing our ranch resume template. This shows you what the finished product of your resume should look like. How do you get to that point yourself? Follow these additional steps to begin the writing process for your resume right.
1. Personalize Your Ranch Resume:
You can use the job description to personalize your document. Incorporate similar language and any included skills to make your resume appeal to each hiring manager specifically.
2. Write a Powerful Summary Statement:
The first section of your resume should be the summary statement, which therefore determines the first impression you make on employers. This is why this section is so important.
3. Use Specific Examples and Experiences:
A good strategy when writing your resume is to include real examples and metrics from your working experiences. In addition to strengthening your writing, it also adds credibility.