Are you getting ready to pursue a watershed management position? If so, you need to focus on writing the best resume you can. For many hiring managers, this document is the only piece of information they use to decide which candidates to call for an interview. It may seem simple, but creating a resume that catches readers' eye and impresses them is not an easy task.
To help you with your resume, take a look at our watershed management resume template. This example lets you see the best way to portray yourself as hardworking, quick, and effective.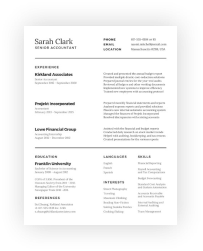 Free Natural Resources And Agriculture Resume Templates for Industry Professionals
Browse templates and job-specific examples of professional natural resources and agriculture resumes.
How To Mention Your Watershed Management Experience
The experience section is at the core of your resume. However, the format of this section is just as important as the content. Take a look at our watershed management resume template to see what a strong experience section looks like. Be sure to begin each bullet point with a strong action verb, and peruse the job ad for keywords to use.
• Investigate the quality of water in local lakes and rivers, creating reports of bad quality and making adjustments
• Protect and improve water in the watershed from impurities, infestation, parasites, and bacteria on a daily basis
• Manage the quality of water in the watershed by adjusting the use of land and water resources
• Record and analyze data, including water quality, environmental impact, erosion, drought and other potential problems
• Present information to managers and department head, considering and discussing the feasibility of certain water-related projects
Watershed Management Resume Tips
Now you have taken a look at our watershed management resume template and seen what your resume should look like. What should be the next step you take on your journey toward your watershed management career ? You need to actually begin the process of writing your resume, and these steps can help you begin the process right.
1. Personalize Your Watershed Management Resume: A personalized resume is much more effective than a generic one. Use the information found in the job description to customize your resume for each new job opening.
2. Write a Powerful Summary Statement: Manage the first impression hiring managers have of you by polishing your summary statement as much as possible. This will be the first thing they read from you, after all.
3. Use Specific Examples and Experiences: Think about your past experiences and choose a few that emphasize the qualities you want to communicate about yourself. Work these examples into your resume.