An effective nurse practitioner resume will demonstrate relevant abilities such as critical thinking, attention to detail, leadership, interpersonal communication, and compassion. However, it can be challenging to sit down and compose this professional document. Looking at resume examples can help tremendously in inspiring applicants.
We provide professional, real-life nurse practitioner resume templates to help jobseekers get an idea of what information they should include. We will also guide applicants on how to organize and word important sections of their resumes in order to impress the hiring manager. Follow our advice to write an eye-catching resume in no time.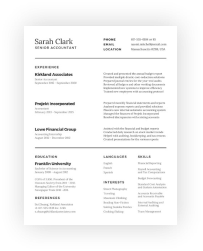 Free Nursing Resume Templates for Industry Professionals
Browse templates and job-specific examples of professional nursing resumes.
How To Mention Your Nurse Practitioner Experience
One of the most effective resume tips relates to how you word your work experience. Do your best to engage the reader and let him or her get a picture of how you function on a regular basis. Make an impact by incorporating action verbs and taking cues from the job description itself. See how to do this in the nurse practitioner resume templates and in the following samples:
• Evaluate patients to diagnose health issues or abnormal conditions; implement treatment plans for best outcome
• Operate medical equipment for diagnostic and treatment purposes; order and assess diagnostic tests of patients
• Collaborate with current health-care team and supervising physician for most effective patient care and management
• Consult with patients and families; educate them about the medical condition, symptoms, and treatment options
• Maintain clear and detailed records regarding patient care and document changes in medication and condition
Nurse Practitioner Resume Tips
Because you will be competing with a large number of applicants, it is important to stand out to the employer right away. Your resume needs to demonstrate your abilities in a unique way, as you can see in some of the nurse practitioner resume templates. You can strengthen your resume using the following guidelines:
1. Personalize Your Nurse Practitioner Resume: Do not make the mistake of turning in the same resume for every job. Read each job description, and then include repeated language from it in your document to personalize it.
2. Write a Powerful Summary Statement: Make a great first impression with a compelling summary statement. In a few succinct lines, showcase your best qualifications and demonstrate your ability to succeed.
3. Use Specific Examples and Experiences: Numbers and specific stories can make a huge difference in how the hiring manager views you as a potential employee. Be as descriptive as possible when explaining your work experiences.