Although the Bureau of Labor Statistics expects the nursing industry as a whole to grow much faster than average, you still need to demonstrate to potential employers that you have the skills and qualifications to handle the position better than the other candidates. A well-written resume increases your chances of advancing to the latter stages of the hiring process.
Do not be one of the psychiatric nurses struggling to know which skills to emphasize on resumes and how to detail accomplishments. Utilize our proven psychiatric nurse resume templates for inspiration on what to write and how to organize your resume.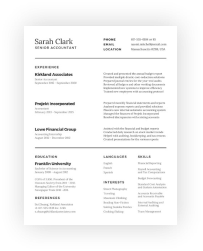 Free Nursing Resume Templates for Industry Professionals
Browse templates and job-specific examples of professional nursing resumes.
How To Mention Your Psychiatric Nurse Experience
It is not enough to list your skills and qualifications on your resume; you also need to write them in a way that attracts attention. To start, mirror the language of the job posting to ensure you emphasize the right information. Then, use compelling action words so the hiring manager can better imagine you performing the tasks. If you struggle with ideas, then review our psychiatric nurse resume templates and the following examples:
• Manage patient medication, including monitoring patient response and ensuring proper dosing
• Perform regular bio-psychosocial assessments on patients according to standard practices
• Collaborate with physicians and other staff on the medical team to develop and revise treatment protocols for patients
• Execute treatment protocols and other plans of care for patients under the supervision of the treatment team as needed.
• Update patient charts to ensure a seamless transition of care across the treatment team
Psychiatric Nurse Resume Tips
You can create a great resume by looking at our psychiatric nurse resume templates and reviewing guides on
how to write a resume. However, do not create a generic resume; take your resume to the next level by focusing on the following best practices:
1. Personalize Your Psychiatric Nurse Resume:
Every practice emphasizes different components of care. As such, tailor each resume to the position for which you apply. Look at the job posting for elements to detail on your own resume.
2. Write a Powerful Summary Statement:
Many recruiters only scan a resume, focusing on the top half. Therefore, put the key aspects of your skills and qualifications in a powerful summary statement.
3. Use Specific Examples and Experiences:
It is not enough to list your duties and tasks. Take it a step further and demonstrate your abilities by detailing professional success stories that relate to the necessary experience.