A show-stopping resume is your golden ticket to a performing arts job. Prepare for career success by tailoring your professional document to a specific job. We offer expert guidance and an inspiring collection of performing arts resume templates based on real-world jobs.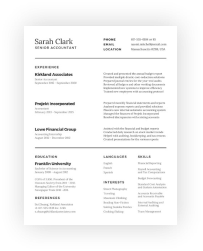 Free Performing Arts Resume Templates for Industry Professionals
Browse templates and job-specific examples of professional performing arts resumes.
Find the Perfect Performing Arts Resume Templates
Good news! The Bureau of Labor Statistics forecasts a bright outlook for performing artists. The agency expects these jobs to grow at the same rate or faster than the average for all professions. Public demand for new movies, television shows, recordings, and performances fuels this growth. The BLS also expects more job competition as the number of performers grows.
Use performing arts resume templates to help you get a leg up on the competition. Your performing arts resume is your professional calling card or elevator speech. It is the first impression you make on a prospective employer. As such, you want it to soar above the rest and receive a standing ovation. A winning strategy is to tailor your document to a specific job by including industry requirements. You want to show employers you have the skills, experience, and education to excel in the position.
We offer you guidance on including industry requirements and skills in your resume. We also provide a number of performing arts resume templates. Whether you‰'re an actor, director, or musician, choose the template that fits you best. These real-world examples will help you decide which skills and experiences to include in your document.
Additional Performing Arts Resources
: A dynamic resource for jobseekers and students, My Next Move helps visitors learn more about their chosen career path. The website details occupational tasks, skills, and salary information for more than 900 careers.
: Find workplace statistics, trends, and earnings related to the performing arts industry. The BLS, a federal agency, presents data for use by jobseekers, employers, professionals, students, and researchers.
: O*Net Online provides information for jobseekers, businesses, and human resources professionals. Browse listings of performing arts occupations and get detailed reports on the tasks, skills, knowledge, and salary information for specific occupations.