Dancers and choreographers use movement to weave tales and make the world a more beautiful place, and a great resume can open doors for you to embrace your calling to this industry. Each dancer and choreographer resume template offers a glimpse of the skills you need to impress entertainment managers.
You can use the following tips and tools to construct a remarkable submission that helps you spring into your next position. Learn how to make the document you create represent your absolute best professional self.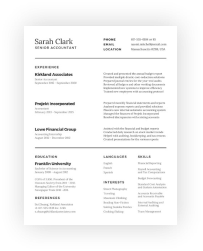 Free Performing Arts Resume Templates for Industry Professionals
Browse templates and job-specific examples of professional performing arts resumes.
How To Mention Your Dancer and Choreographer Experience
Tell a story without saying a word. Dancers and choreographers bridge the gap between music and narrative, binding these elements together with planned, rehearsed steps. The way you outline your experience in the document you present to prospective employers can have a great impact on their decision to hire you. Whether your genre is ballroom dance, ballet, or hip hop, the dancer and choreographer resume templates show how action words, mirroring the job ad's language, and your experience boost your chances of receiving a interview request:
• Research show ideas and coordinate with entertainment managers to bring ideas to fruition
• Craft specific choreographies and cast dancers who will perform them best
• Organize rehearsal times and agendas
• Take direction from choreographer to perform as an integral part of the dance company
• Coordinate show vision with lighting and sound technicians
Dancer and Choreographer Resume Tips
If you study resume examples, you can learn important strategies for getting information across in an efficient but interesting way. The dancer and choreographer resume templates also show examples of how you can utilize the following tips:
1. Personalize Your Dancer and Choreographer Resume: Each job posting hints at the keywords that employers are looking for when they skim resumes. Insert as many of these keywords naturally into your document to increase your chances of standing out.
2. Write a Powerful Summary Statement: Your professional summary should capture the essence of who you are as a dancer and choreographer. Entertainment managers look for summaries that pinpoint the drive and skills they need on their team.
3. Use Specific Examples and Experiences: The competitive world of dance can be challenging for those who are just starting out, but once you have some experience under your belt, you can harness the specific details of that experience to propel your career forward. List specific work experience to show your talents.