The Bureau of Labor Statistics projects a 6% growth rate for pharmacy jobs in the next decade. Stand out from your competition with a polished resume that gets the right kind of attention from recruiters. Our pharmacy resume templates come with best practices and real-world examples tailored for the jobs you want.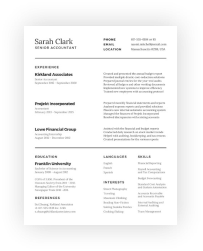 Free Pharmacy Resume Templates for Industry Professionals
Review our pharmacy industry resume templates with smart advice and job-specific examples.
Find the Perfect Pharmacy Resume Templates
The Bureau of Labor Statistics predicts more employment opportunities for pharmacy professionals, speculating an increase of 6% between now and 2026. The BLS believes that hospitals and clinics will probably experience the greatest demand, likely prompted by factors such as an aging population, new drug developments, and higher rates of chronic illness. While that‰'s good news for you, it could also mean potentially stiffer competition with other jobseekers for the same openings.
Fortunately, our pharmacy resume templates can give you just the edge you need to get noticed by recruiters. After all, your resume is one of the first documents a hiring manager sees. You must create a polished, well-written, and persuasive document to have a good shot at even reaching the interview stage. To successfully pass the applicant tracking systems that many recruiters use to screen applications, it must also contain relevant information demonstrating you have the right blend of talents and experience.
Besides providing industry-targeted tools and advice, our templates also include job-specific versions for pharmacists, pharmacy technicians, and pharmacy aides. These professionally crafted real-world examples can help you make a stellar first impression and boost your chances.
Additional Popular Pharmacy Resume Templates
You‰'ve seen just a few different formats used by professionals in your industry. We invite you check out more of our pharmacy resume templates to find a structure that works well for you. You‰'ll discover more layouts along with job-specific best practices for creating, revising, and polishing your final version.
Additional Pharmacy Resources
Bureau of Labor Statistics: The BLS provides useful tools for jobseekers, such as its Occupational Outlook Handbook. Search its website to find salary and job growth statistics, information about how to prepare for specific careers, and much more.

O*NET Online: This vocational guide supplies detailed breakdowns for many occupations, including technical skills, typical work environments, and knowledge needed to perform each job. Search by specific job type, browse by industry, or access data from related government agencies.

American Pharmacists Association: The APA is the largest organization for pharmacists, pharmacy technicians, and other industry professionals in the United States. Access continuing education resources, view career opportunities, get advice, and network with others in your field.