Expected real estate market growth may lead to increased job opportunities in the coming decade. Is your resume ready for the competition? Produce a polished, well-written document with help from our real estate resume templates. Take advantage of our expert tips, job-specific advice, and real-world examples.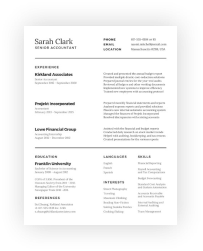 Free Real Estate Resume Templates for Industry Professionals
Check out our resume templates and job-specific examples for real estate professionals.
Find the Perfect Real Estate Resume Templates
The next 10 years may bring more potential employment opportunities, a rise in consumer spending, and millennials entering the real estate market. The Bureau of Labor Statistics predicts that the number of job openings in most real estate professions will increase by around 6%. That's close to the national average for all occupations, but it still means you'll compete with other candidates vying for the same jobs.
You must have a polished and compelling resume to meet your career advancement goals. However, if you feel like you don't even know how to start crafting your own version, you're not alone. Our real estate resume templates help you produce a stellar document that gets the right kind of attention from recruiters. We show you how to structure it with an attractive layout, mention pertinent skills and expertise, and underscore critical accomplishments that illustrate your value to employers.
Property managers, brokers, agents, and mortgage professionals all have different needs during the job hunting process. With that in mind, we provide you with resume examples written by working people in the real world from a wide range of real estate occupations. No matter what your vocational goals are, you'll find precisely tooled best practices and advice to polish and perfect your resume.
Property Management Resume Template
O*Net speculates that openings for property managers could rise by as much as 14% within the next few years. The growth of apartment complexes, condominiums, planned communities, and senior housing may prompt a demand for more management professionals. Successful property managers depend on a combination of soft skills such as time management, customer service, resource management, and problem-solving abilities. Since every work environment has its own challenges, you must pay close attention to each job description and observe which skills the employer emphasizes. Work these keywords into your resume, especially within the professional summary and skills sections of the document.
Broker and Agent Resume Template
Defining one's professional brand is critical for real estate agents and brokers, and the resume's summary statement is the perfect place to achieve that objective. As The Muse explains, it's a three-sentence blurb summing up a jobseeker's strongest, most relevant qualifications. Since it appears in the top third of your document, it's also the ideal place to grab a recruiter's interest.Write your summary statement as a 30-second pitch describing who you are and what you can achieve. Summarize your experience and incorporate intangible qualities that make you an asset. Check out our real estate resume templates for examples to guide you in crafting your own.
Mortgage Resume Template
Mortgage professionals can leverage their accomplishments in their resumes to demonstrate what they can offer to future employers. To reach this objective in your own document, include your best metrics in the job descriptions listed in your work experience section. Sales awards, customer satisfaction ratings, and closing rates are a few examples, but the bottom line is that numbers help tell your career story. Pair these with strong action verbs when describing your responsibilities and achievements and you‰'ll show a hiring manager that you're a strong candidate for the jobs. To see examples written by real-world professionals, review our real estate resume templates.
Additional Real Estate Resources
: Check out the NAR for links to career information, continuing education, recent industry data, and more.
: Along with promoting high standards of ethics and professionalism in the industry, it offers support, advocacy, and information about career and educational resources.
: The BLS provides information on projected job growth, salary trends, and career preparation for thousands of industries.

O*Net Online: You can find detailed descriptions for several million different occupations on this career exploration website.