Expected real estate market growth may lead to increased job opportunities in the coming decade. Is your resume ready for the competition? Produce a polished, well-written document with help from our real estate resume templates. Take advantage of our expert tips, job-specific advice, and real-world examples.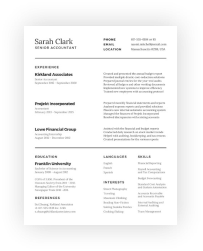 Free Real Estate Resume Templates for Industry Professionals
Check out our resume templates and job-specific examples for real estate professionals.
Find the Perfect Real Estate Resume Templates
The next 10 years may bring more potential employment opportunities, a rise in consumer spending, and millennials entering the real estate market. The Bureau of Labor Statistics predicts that the number of job openings in most real estate professions will increase by around 6%. That‰'s close to the national average for all occupations, but it still means you‰'ll compete with other candidates vying for the same jobs.
You must have a polished and compelling resume to meet your career advancement goals. However, if you feel like you don‰'t even know how to start crafting your own version, you‰'re not alone. Our real estate resume templates help you produce a stellar document that gets the right kind of attention from recruiters. We show you how to structure it with an attractive layout, mention pertinent skills and expertise, and underscore critical accomplishments that illustrate your value to employers.
Property managers, brokers, agents, and mortgage professionals all have different needs during the job hunting process. With that in mind, we provide you with resume examples written by working people in the real world from a wide range of real estate occupations. No matter what your vocational goals are, you‰'ll find precisely tooled best practices and advice to polish and perfect your resume.
Additional Real Estate Resources