Whatever job you're trying to get, use our extensive selection of retail resume templates. You can easily pick a template and customize it to the posting if you're applying for a customer service, merchandising, sales, or store management position. This way, you can get the job you want.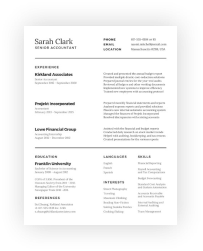 Free Retail Resume Templates for Industry Professionals
Make your application stand out with our resume templates for the retail industry.
Find the Perfect Retail Resume Templates
The retail industry is one that remains constant and provides plenty of job opportunities. While the growth rate for the retail industry will bloom at a slower-than-average rate over the next few years, many jobs exist in
customer service, merchandising, sales, and even store management.
We have retail resume templates for these jobs as well as many others in this industry. Written by real professionals in the retail world, these templates can give you a better feel for what your own resume should include and how you should format this essential document. All you have to do is pick the template that will work best and add your information. Then, you'll be set to submit your resume to employers and get back to your job search!
No matter what specific job you apply for, our templates can help you showcase your best skills and abilities. For example, if you apply for a job as a sales associate, you may want to emphasize your customer service and reliability in addition to other important skills. Regardless of the job you want to get, using one of our templates can help you solidify your resume and enhance your ability to land an interview.
Additional Retail Resources
: This government agency reports trends in job markets and specific jobs. Check it out if you want to know more details about a certain position.

Retail Industry Leaders Association

: Find out what's happening within the retail industry, and get up-to-date information about recent trends, the outlook for different jobs, and advice on enhancing your professional skills.

O*Net Online

: Whether you are looking for a new job, already have a job, or have an interest in pursuing a different career, this resource can give you detailed descriptions for many different positions in retail.