When you're searching for a science job, you need to come up with a stellar resume and customize it for each position. If that sounds like a tough order, we're here to help with an array of science resume templates for a wide variety of science jobs, along with some helpful advice from our resume professionals.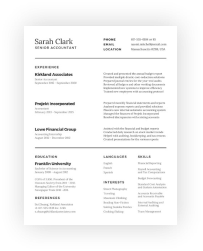 Free Science Resume Templates for Industry Professionals
Check out great resume templates that show effective approaches for specific science jobs.
Find the Perfect Science Resume Templates
The science industry includes many different fields and occupations, most of which are growing fast. The Bureau of Labor Statistics predicts a faster-than-average growth rate for life, physical, and social sciences within the next 10 years. If you are ready to take advantage of the many exciting new opportunities in your field, it is time to begin polishing your resume.
For most positions, your resume can make or break a job opportunity. Reviewing professional science resume templates can give you a good start as you sit down to compose your own. Here you will see specific examples of writing techniques and phrases that work. We include templates for many types of science jobs and make sure to source them from real professionals.
Our templates and accompanying advice help you understand how to write an impactful resume that showcases the ways in which your skills and experiences make you a great fit for a particular type of scientific position. With the right resources, writing a top resume does not have to be a difficult or stressful experience.
Additional Popular Science Resume Templates
Our selection of professional science resume templates includes many more examples from scientists and technologists working in a variety of fields. In addition to illustrating some core resume-writing rules, these samples can give you ideas about phrasing, organization, and everything else you may need to perfect your own document.
Additional Science Resources
: This government website provides detailed information on statistics about wages, employment rates, and projected growth. It also describes typical requirements and duties for individual occupations.
: Here you can access a wealth of information about various scientific jobs.
: This organization's site provides a wide range of resources about scientific careers, programs, and news.