Looking for new employment is often a stressful and time-consuming process. Make it easier by creating a strong resume that can impress hiring managers with your relevant experience and industry knowledge. If you use this document to show you can work swiftly and effectively, you may convince employers you are a candidate worthy of consideration for the job.
Writing an outstanding resume is not as difficult as it may seem. With the help of our insightful tips and real-world agriculture and food scientist resume templates, you can understand exactly how to write and format all the important components of your text.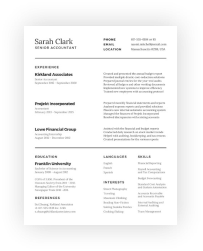 Free Science Resume Templates for Industry Professionals
Browse templates and job-specific examples of professional science resumes.
How To Mention Your Agriculture and Food Scientist Experience
How you phrase your experience is just as significant as the actual experience you include in your resume. Use all the tools at your disposal, such as our agriculture and food scientist resume templates and this useful guide, to ensure you write impressive descriptions. Remember to use relevant language and strong action words.
• Inspect agricultural and food processing facilities and analyze processes to ensure compliance with health and safety regulations
• Research and test raw ingredients to discover their ability to mature and fit into food processing operations
• Experiment and record data concerning new equipment, tools, and procedures in animal care and food processing
• Implement new methods in balancing flavor with nutritional content to create appealing finished food products
• Analyze crop productions and animal samples to identify and safely respond to the presence of disease and other hazards
Agriculture and Food Scientist Resume Tips
As you use our agriculture and food scientist resume templates and abide by the various dos and don'ts of resume-writing, make sure you do not overlook the following tips. They may seem like small steps to take, but they can drastically improve the appeal of your document, and therefore, your candidacy.
1. Personalize Your Agriculture and Food Scientist Resume:
Tailor your resume to the exact position for which you are applying. Use phrases such as "food processing," "agricultural research," and other vital keywords you find in the job listing.
2. Write a Powerful Summary Statement:
Convince employers to spend more time reviewing your document by writing a summary statement that shows how they may benefit from hiring you. Write concisely about your top relevant credentials.
3. Use Specific Examples and Experience:
Include success stories that prove you have what it takes to perform in the position. Use metrics, facts, and compelling language to paint a clear picture of your talents and knowledge.