Engineers who focus on nanotechnology need to have an eye for nuance. Draw on those skills as you read our collection of nanotechnology resume templates. These examples help you zero in on what your resume should say about your specialized skills and experience so you can land the job you want in the field where your passion lies.
Create a fantastic document with the resume-building tools we provide. After you have a solid draft, turn it into the resume that wins your next job by leaning on tips offered by the real-world professionals who contribute to our pool of knowledge.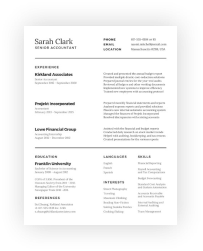 Free Science Resume Templates for Industry Professionals
Browse templates and job-specific examples of professional science resumes.
How To Mention Your Nanotechnology Experience
The science of nanotechnology focuses on nanoscale particles and has applications in many industries. To land a job, you need to describe your experience in a way that impresses potential employers. Incorporate exact language from the job description. Our nanotechnology resume templates give examples of how to use action words to express experience and expertise:
• Utilize state-of-the-art equipment to test and produce nanotechnology elements in accordance with the highest safety standards
• Repair and adjust various types of nanotechnology equipment to ensure quality control, meticulous measurements, and accurate readings
• Observe, analyze, and record outcomes of experiments to advance the knowledge base of the field
• Conduct biochemical tests to enhance understanding of compounds and chemicals as they relate to nanotechnology
• Collaborate with other scientists to brainstorm new research hypotheses, design experiments, and conduct field research
Nanotechnology Resume Tips
High-quality example resumes can make the writing process easier by showcasing excellent organization and content. Our nanotechnology resume templates provide a basic framework for producing an outstanding document. The following writing tips can help you sharpen your language and focus on your most compelling traits.
1. Personalize Your Nanotechnology Resume:
The closer your experience matches the job description, the more likely you are to get that job. Insert keywords found in the qualifications section of the posting throughout your resume in a natural, easy-to-read format.
2. Write a Powerful Summary Statement:
Most prospective employers spend six to eight seconds looking at each resume before going on to the next one. A powerful summary encourages them to give your document a little more time.
3. Use Specific Examples and Experiences:
Share the exciting details of your accomplishments from your nanotechnology research. Hit one or two high points with each job you list in the experience section of your resume to make it stand out to employers.