Browsing our collection of skilled trades resume templates can help you see exactly what you need to craft a standout resume. With the right resume, you can boost your chances of landing a job in industries such as logging, construction, or manufacturing. Your skills deserve to be on display with a great resume.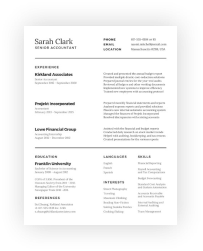 Free Skilled Trades Resume Templates for Industry Professionals
Land a job in the skilled trades with a great resume inspired by our free examples.
Find the Perfect Skilled Trades Resume Templates
Jobs in sectors such as logging, construction, and repair demand certain skill sets. Candidates must be physically capable and detail-oriented to work in these positions. Perhaps that is why they are often referred to as skilled trades. Jobseekers who are looking for work in these sectors need a stellar resume. This will set you apart from the rest of the candidates. Luckily, with our free skilled trades resume templates, you can see exactly what employers are looking for. Our collection contains 100s of professional resumes written by professionals in skilled trades. Get an idea of how to showcase your skills, experience, and accomplishments.
The Bureau of Labor Statistics indicates that jobs in construction alone will grow considerably within the next decade. You can take advantage of this growth with a winning resume. Employers in skilled trades want to see that you have experience in the field. Model your resume after one of our examples and show your track record of success. Writing a resume can be quick and easy when you have a template to reference.
Additional Skilled Trades Resources
: This staffing company offers career support and job opportunities to professionals in the skilled trades.
: The Bureau of Labor Statistics offers information on salaries and job prospects for construction and extraction skilled trades.
: This association serves skilled trades construction professionals seeking work by matching them with clients seeking construction staff.