A well-written resume is like a well-run practice: nobody wins The Big One without it. These sports resume templates can put you ahead of the competition with job-specific writing. Find the right combination of expert coaching and professional examples to help you get the career you want.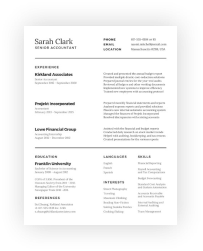 Free Sports Resume Templates for Industry Professionals
Find successful sports resume templates with industry-specific details and examples.
Find the Perfect Sports Resume Templates
The Bureau of Labor Statistics predicts that sports jobs will grow by 10% between 2016 and 2026. Organizations will hire athletes, coaches, trainers, referees, and other staff to swell the number of people employed by almost 80,000.
The best way to maximize your chances of getting a job is to customize your resume. By matching what you write to the position, you look like the ideal fit for potential employers. Spending the extra effort for each application may seem like a hassle, but there are ways to save your energy.
Sports resume templates not only help tailor your resume, they also save you writing time. You start with the framework already finished, leaving you to only fill in the details. You can find templates for a specific job title within the sports industry, which allows you to concentrate your submission on the right position.
Industry professionals created these templates, so they have sports-specific writing built into them. Sports jobs attract competitive people by their nature. Attack the application process with the same focus an athlete approaches game preparation. Your resume is your introduction, so an effective one is like the perfect start to a game.
Additional Sports Resources
: Not only a useful site when searching for jobs, it also has a blog, professional events listing, and career guide.
: This government agency collects data about working conditions, industry activity, and job growth projections. It is an excellent site to find information such as average salaries, job demand, and potential position requirements.
: Go here if you're interested in informative material, including career skills, abilities, and related occupations for the sports industry.