When searching for a job, you only get one chance to make a first impression, so you need a resume that wows prospective employers right out of the gate. Learn some top techniques for composing a standout resume with our professional telecommunications and wireless resume templates and industry-specific advice.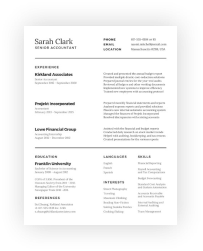 Free Telecommunications and Wireless Resume Templates for Industry Professionals
Read through over 100 top resumes for jobs in the telecommunications and wireless field.
Find the Perfect Telecommunications and Wireless Resume Templates
One size never fits all when it comes to sending out your resume. This is true even when you apply for similar positions in the same field. As a first step, you need to come up with a document that targets across-the-board industry requirements. You can then adjust your resume based on requirements and preferences in specific job postings. If that sounds complicated, using the right resources can take the headache out of the process.
Employers in the telecom industry tend to prioritize particular skills. Our telecommunications and wireless resume templates show you some effective ways to state your qualifications for various kinds of jobs. Most people learn by example. For this reason, we provide a wide range of examples for you to get inspiration from. Seeing top resumes from real-world professionals can help you understand what to include in your own.
While some occupations in this industry can expect to see average growth, the Bureau of Labor Statistics predicts a decline for technician-level job such as installation and repair. An outstanding resume can give you the edge you need in a competitive job market.
Additional Telecommunications and Wireless Resources
: Read thorough descriptions of typical job duties and outlooks for various types of telecom professionals.
: This federally managed site presents an overview of industry trends and employment throughout its sectors.

National Association of State Chief Information Officers

: On this site, you can learn about new developments and ongoing discussions in the world of telecommunications.