To be a successful fashion designer, you need to craft a compelling resume. Since most hiring managers spend between five and seven seconds glancing at documents, your resume needs to make a good impression instantly. Save yourself the hassle of excessive editing and formatting by using our fashion designer resume templates for guidance.
In a few short minutes, you can polish your resume to meet the expectations of recruiters. Follow step-by-step instructions and receive advice from career experts to ensure your document is the best it can be. Better yet, all the sections are pre-formatted so you won't have to worry about spacing and margins.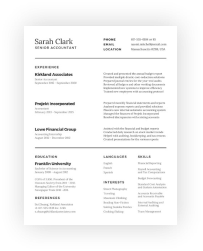 Free Textile And Apparel Resume Templates for Industry Professionals
Browse templates and job-specific examples of professional textile and apparel resumes.
How To Mention Your Fashion Designer Experience
Our fashion designer resume templates can help make your accomplishments stand out in industry with a slower-than-average growth rate. By carefully choosing your wording, you can rise above other applicants and pass the first stage of the hiring process.
Hiring managers appreciate detailed and compelling resumes. Spice up your credentials by paying close attention to how you present your information. Several ways to do this is to mirror the language of the job ad, begin your sentences with a strong action verb, and avoid repetition. A fashion designer might include the following in his or her document:
• Visualize and sketch clothing creations using computer-aided design (CAD) software
• Study fashion trends relating to fabrics, colors, and shapes to incorporate into designs
• Contact manufacturers to purchase fabrics, trims, and embellishments
• Develop sample pieces, fit them on models, and oversee mass production
• Collaborate with sale and marketing teams to ensure successful clothing launches
Fashion Designer Resume Tips
Both entry-level and experienced candidates should master the art of resume writing to achieve their career goals. Fashion designer resume templates can be enormously helpful. Choose from a variety of layouts to give your document a professional look that also has space to fit all your information. In addition, keep in mind the following suggestions:
1. Personalize Your Fashion Designer Resume: Tailor your resume to the job you're applying to by reading the job description and the website of a company. Incorporate phrases from the job ad to emphasize you're a good match for a position.
2. Write a Powerful Summary Statement: A summary statement is a paragraph or list that should serve as a pitch of your strongest attributes. Many recruiters look to the summary statement to decide whether the work history or skill set of a particular candidate merits a closer look.
3. Use Specific Examples and Experiences: Mention how many people you managed in your teams, what awards you won, or performance metrics.