If you want to work as a tailor, you need to show employers that you are detail-oriented and knowledgeable about alternations. A brief, impactful resume is the first step to doing so.
Within our library of tailor and sewer resume templates, you'll find a wealth of examples and advice to help you write effectively. Industry professionals contribute to our samples, meaning that you get a look at the formatting and content standards of individuals in the field. From work history to summary statements, learn tips to make every aspect of your writing shine.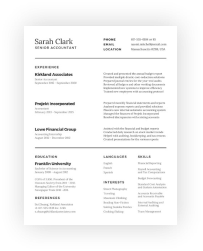 Free Textile And Apparel Resume Templates for Industry Professionals
Browse templates and job-specific examples of professional textile and apparel resumes.
How To Mention Your Tailor and Sewer Experience
After browsing our tailor and sewer resume templates, you may notice certain patterns, such as a professional tone and the inclusion of action words. These are subtle techniques you can use to elevate the presentation of your document. When creating your own resume, you should also try to incorporate important words or phrases from the job ad into your writing, especially when describing skills and abilities:
• Repair and alter garments and defective articles such as linings, snaps, buttons, pockets, and zippers
• Estimate repair and alteration costs by determining material requirements and time spent; prioritize jobs by date
• Create patterns or alter existing patterns according to customer specifications and take customer's measurements to ensure accurate fit
• Take customers' measurements, record any needed alterations in system, mark garments, and explain any necessary changes to customers
• Inspect alterations for quality; press and steam garments as needed before packaging for return to customer
Tailor and Sewer Resume Tips
It can be overwhelming to build a resume. Fortunately, there are a few simple steps you can take to bolster your writing. If you need a little inspiration, you can find great examples of the following techniques in our tailor and sewer resume templates.
1. Personalize Your Tailor and Sewer Resume: It's helpful to have a template to start, but you should update your document for each job listing. Different employers may emphasize unique aspects of their ideal candidate, so gear your changes toward their expectations.
2. Write a Powerful Summary Statement: Don't hold back out of humility when it comes to your summary statement. Be brief and professional, but also showcase your strengths and ability to contribute knowledge that no one else can.
3. Use Specific Examples and Experiences: It may be tempting to just list your previous employers in your work history section. However, this space is an opportunity to offer concrete examples that support the qualifications you listed previously.