Use our free transportation and distribution resume templates to inspire your job search. Our real-world examples will help you learn what to include in your resume. You'll also get ideas about how to lay out your information to catch a hiring manager's attention and get an interview.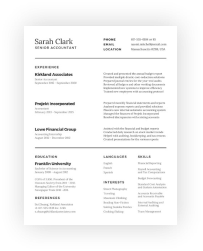 Free Transportation and Distribution Resume Templates for Industry Professionals
Check out the best resume templates for the transportation and distribution industry.
Find the Perfect Transportation and Distribution Resume Templates
When you're applying for jobs, it's important to tailor your resume to match the job description as much as possible. That way, you make it obvious that you're the best person for the job, even if a software program is the first one to review your application. The transportation and distribution resume templates on this page will show you what skills and experience you need to get a job and succeed in this industry. You can also learn how to effectively write about your skills on your document. These resume templates, based on real job openings, are full of good examples. They come from industry professionals who know what they're talking about.
According to the Bureau of Labor Statistics, the field of transportation and material moving is growing. These jobs may increase by as many as 634,000 between 2016 and 2026. You should have plenty of opportunities to find work in this industry, whether you're a truck driver, a railroad worker, a material handler, or a forklift operator, or are looking for some other logistics-related job.
Additional Transportation and Distribution Resources
The Bureau of Labor Statistics has a comprehensive report on careers in transportation and warehousing, including expected job growth, typical salaries, and needed skills.

O*Net Online lets you browse an extensive list of occupations in the field of transportation, distribution, and logistics. You can find out what typical tasks, skills, and traits you need to be successful in each job.
The United States Department of Labor lists apprenticeships that can help you get into the transportation and distribution industry.