Create a winning resume with a little help from the professionals. Browse our collection of expertly curated veterinary resume templates for industry-specific text examples, formatting ideas, and insight to create a document that is bound to get you noticed and land you an interview.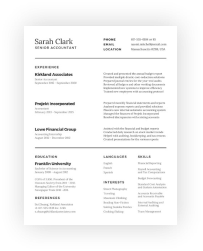 Veterinary Resume Templates for Industry Professionals
Refer to top-performing resume templates for text examples to build a winning resume.
Find the Perfect Veterinary Resume Templates
As of 2016, there were 79,600 jobs available in the veterinary field. The projected growth for the field is at 19%, much faster than average. This is good news for aspiring veterinary professionals.
However, just because job prospects are plentiful does not mean that it will be easy to land a job, or an interview, for that matter, especially if you do not study veterinary resume templates. To get your foot in the door, you need a strong submission that not only showcases your skills and expertise, but also makes a great first impression. In just a single document, you must show off your knowledge, technological skill sets, critical-thinking, inductive reasoning, and problem-sensitivity capabilities, and your ability to perform all the requisite responsibilities that the job entails. Alone, that can be an overwhelming task. When you refer to resume templates created by real professionals with real experience, however, the task becomes a little more manageable.
On this page, you will find templates complete with industry-specific text examples and organized by profession and skill level. With these examples as your aides, you can create the perfect resume with ease.
Additional Popular Veterinary Resume Templates
For more ideas on what you should include in your veterinary resume, browse our vast collection of veterinary resume templates. Real-world professionals helped create these resumes, which is why they all contain industry-specific text examples of the skills and traits employers in the field value most.
Additional Veterinary Resources
: O*Net provides helpful descriptions of industry-specific professions and the necessary traits and skill sets for each. The information on this site can come in handy for jobseekers, students, and professionals alike.
: Get all the latest industry stats, keep an eye on market growth, and map your future with the information at BLS.gov.
: Network with other like-minded professionals, stay up-to-date on industry news, and learn what real-world employers look for in successful candidates at AVMA.