Everyone from animal care supervisors to sow farm managers require exceptional job applications. Hiring managers need to be able to trust with you the well-being of the animals, so you should demonstrate proficiency with the various experiences and skills required of you. You can see for yourself what those qualifications are by reading through several animal care and service resume templates in our library.
Even if you believe your resume is already good, you can probably make it at least a little better. A few changes may just land you an interview for a great new job.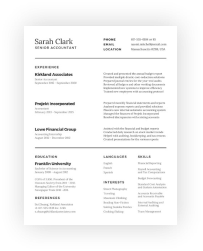 Free Veterinary Resume Templates for Industry Professionals
Browse templates and job-specific examples of professional veterinary resumes.
How To Mention Your Animal Care and Service Experience
Animal care workers should be comfortable bathing, grooming, feeding, and exercising animals in farms and shelters. You need to showcase your experiences in the same manner as the animal care and service resume templates. That involves implementing compelling action words and mirroring the job ad's language. If your experiences look similar to the ones below, then you are on the right track.
• Observe animals for any signs of unusual behavior, injury, or illness and notify manager when warranted
• Treat any injuries or illnesses experienced by an animal under the supervision of a veterinarian
• Arrange and transport animals, food, and equipment to and from various work sites
• Inspect supplies, fences, and buildings to ensure environments are safe for animals
• Assign duties to subordinates, such as feeding the animals and maintaining the quarters
Animal Care and Service Resume Tips
Reading our animal care and service resume templates is a good first step, but it is just the beginning. You need every advantage you can get to make your application stand apart from everyone else's. Therefore, implementing the following actions is hugely beneficial.
1. Personalize Animal Care and Service Resume:
When hiring managers create job ads, they list skills they want to see in resumes. Therefore, you want to include those specific skills in different versions of your resume to make a better impression.
2. Write a Powerful Summary Statement:
Most employers can tell if a resume is worth reading in about six seconds. Since the summary statement comes first, you want to make this area really stand out with your most impressive achievements.
3. Use Specific Examples and Experiences:
You need to relate relevant skills to specific actions you have taken in the past. Professional success stories make you more of a desirable applicant because you have made actual impacts in your past employment.