A manager's job is at least twofold: to know the role he or she supervises and be able to inspire others to do it well. Your resume should work as your career manager. It should not only help potential employers get to know you well professionally, but it should also motivate them to see how your skills and experience distinguish you from the crowd of applicants.
We offer a selection of management resume templates, a resume builder, and tips given by real-world professionals. Whether used in combination or individually, these tools can help you create an impressive document.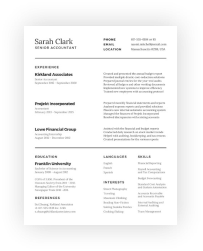 Free Veterinary Resume Templates for Industry Professionals
Browse templates and job-specific examples of professional veterinary resumes.
How To Mention Your Management Experience
A good manager not only must know the jobs he or she oversees but also must be able to train, motivate, and monitor supervisees. Veterinary managers are in charge of the office and are responsible for how it runs. Through the use of action verbs, the management resume templates give great examples of how to phrase your experience so that it matches the job description:
• Diagnose animal diseases, illnesses, or injuries and communicate the problems clearly to coworkers and veterinarians
• Provide meticulous medical treatment to animals to offer excellent service and to teach those who are in training
• Schedule staff to work and establish procedures for calling in sick or asking for days off
• Conduct and monitor staff training to establish expectations; assign additional tasks to employees as necessary
• Observe staff's animal care practices to ensure that they follow protocol and provide good customer service
Management Resume Tips
When building your resume, it's essential to start with high-quality examples. You have many management resume templates to choose from. Once you have a complete document with good content and formatting, these specialized tips can help you fine-tune the final draft of your resume.
1. Personalize Your Management Resume:
Show all the necessary skills for the job by listing them prominently. Check your resume against the actual job description to ensure that you have included everything the prospective employer requires as well as some of the preferred qualifications.
2. Write a Powerful Summary Statement:
Recruiters may expect all management resumes to look the same. Catch them off guard with a unique summary statement that showcases your best characteristics and pinpoints the skills that make you proudest.
3. Use Specific Examples and Experiences:
Your resume should tell the story of your career up to this point. Rather than list a bunch of job responsibilities, rephrase those tasks into specific experiences that get across the same meaning.