Al Palumbo, MBA, CPRW, a professional resume writer and career coach who writes up to 1,000 resumes each year.
Every jobseeker wants to know: What's the secret for writing a killer resume? To get the inside scoop, we sat down with Al Palumbo, MBA, Certified Professional Resume Writer, and career coach who writes up to 1,000 resumes each year. Al's clients come to him for advice on how to create the kind of resume that can move them ahead in their current career or help them launch a new one.Al brings his extensive experience writing resumes for both national resume writing services and for private clients to
LiveCareer
, where he works one-on-one with clients to create personalized resumes that lead to the best possible results.Al sat down with ResumeBuilder.org to answer 18 frequently asked questions about how to write a resume that will catch the eye of a hiring manager.
Is There a Best Resume Format?
The first thing to remember as you learn how to write a resume is that there are
three basic kinds of resume formats
that are generally acceptable to recruiters: chronological, functional and combined.
Resume Format
Who Should Use This Format?
Chronological

Works best for those who have been in the same industry throughout their careers
Great for those with a consistent employment history

Functional

Showcases skills and accomplishments rather than a linear work history
Best for those with significant gaps in employment

Combined

Great for students and entry-level applicants with limited work history
Good for those who have made significant career/industry changes
The resume format that's most widely accepted and that recruiters like the best is the chronological format because they can easily track your employment history and see how long you have worked in each job. For those with a consistent employment history without serious gaps and those who are continuing to look for work in their current field, this is your best choice. The work history is in reverse-chronological format, with the last job entered first.For some jobseekers, though, the chronological resume may not be the best choice. If you have significant gaps in your work history or are switching careers, this may not be the format for you. In that case, use the functional resume format, which emphasizes your skills and accomplishments. Be warned, however, that recruiters sometimes don't like this format because it can be hard to pinpoint experience and accomplishment to the work timeline on the resume.The third option is a combination of the chronological resume and the functional resume and is known as a hybrid or combined format. This format allows you to describe your functional skills and related qualifications and is followed by a reverse chronological employment history. Recruiters and hiring managers like this type of resume format because it allows you to describe qualifications near the top of the resume, and then provide the reverse chronological timeline that they like to see. When we prepare a combination resume, we provide a career summary at the top of the resume, following by a key skills section, and then an employment section. This format is good for students, new grads, entry-level applicants, workers with a steady employment history, subtle career changes, older workers, and applicants re-entering the labor market.
Is There a Best Font to Use on My Resume?
Selecting the right font is an important design choice for your resume. Fonts provide the reader with impressions about your personality, style, and professionalism. So, as you decide how to write a resume, remember that the font should be aesthetically pleasing to hold the attention of the reader. Most resumes are written in a serif font, such as Times New Roman or Cambria, or sans-serif fonts, like Arial and Calibri.Resume experts have differing opinions about font type, but we all agree that fonts should be simple, not fancy. Many believe that the serif type face projects reliability and authority. Others like the clean lines and no-frills simplicity of the non-serif font. It's really up to you, but whichever font you choose, be sure it's easy to read and looks good on paper and a computer screen.
Can You Recommend Some Good Resume Examples?
A good resume gets you past the gatekeeper and into the interview chair. That gatekeeper could be an Applicant Tracking System (ATS), which is a type of keyword-based screening software, or a human being. The best resume examples will reflect the kind of formatting and content that satisfy both parties. Below, you'll find some tips that shed light on how to write a resume that does just that:
Personalize the resume for the job. You have to make it easy for the reviewer to want to select you for an interview. To do this, you almost want to spoon feed them what they are looking for. Read the job posting. What are they looking for? What are the key skills in the job? If you read the ad, you can cherry-pick the key skills.
Use keywords from the job ad. Study the words and phrases the employer has written to describe the position and qualifications and work them into your resume. This is very important because, if the employer scans the resume with an ATS, they will be searching for these keywords. Your resume is more likely to be screened out if you haven't captured the and phrases accurately.
Omit the "Objective" statement. This is not used on modern resumes. Instead, consider writing a section titled, "Career Summary" instead. This will contain your "elevator pitch," or your unique value proposition (UVP). This is a quick opportunity to make your case for who you are and what value you can bring. This is what belongs at the top of the resume. It should not be more than five sentences in a single paragraph.
Keep it clean. It is very important that your resume be free of typos and bad grammar. Proofread it, send it through spellcheck, and have a trusted friend read it again. Typos are the quickest way to have your skills and attention to detail called into question.
Tell a story through stats and data. Demonstrate your concrete accomplishments by stating the impact you've had in past jobs through data and numbers. Include statistics, revenue, or other numbers that clearly show how you positively influenced the performance of your department or company.
Keep it to one page. Be mindful of the length of your resume. If you are a recent graduate or have a minimal work history, a one-page resume should suffice. If you are a seasoned professional, your resume should still never exceed two pages except for in special circumstances, such as a professional CV for academics, scientists, and high-level professionals.
Skip stating that "references will be provided." It is understood that you will provide these on request, so indicating this is wasted real estate.
Do not use text boxes, tables, and other graphics. These can confuse an ATS. Also, never include a photo of yourself on or with a resume unless it is a position where a headshot is requested, such as an application for a modeling job.
How Do I Write a Resume Header?
The top of the resume should always contain your name, your email address, and your phone number. It's fine not to list your address, as snail mail is no longer the preferred contact method. Make sure that your email address is professional and not be risqué or silly. If yours doesn't fit the bill, create a new one for your job search.It's a good idea to include your up-to-date LinkedIn profile in the resume. That said, employers like to search social media, so be careful about what is on your Facebook page, Instagram profile, etc. as you embark on a job search.Since the top third of your resume is the most read section, I recommend learning how to write a resume that includes a "headline." This headline could take the form of a "Career Summary," an "Executive Summary," or a "Career Profile." To further focus your resume, include the name of the position you are seeking in that top section.
What Goes in a Resume Objective?
The short answer is: don't bother. The use of a resume objective is obsolete and using one makes your resume look dated. I, instead, encourage people to learn how to write a resume that is current and modern. A modern resume contains a summary that clearly states your experience and value in five sentences or less.When you write an objective statement, you are telling the reader what you want, but you are not showing them the value you will bring to the organization if you are hired. Please refer to the next section for more guidance on this important point.
What Makes a Strong Resume Summary Statement?
Resume objective statements have a bad reputation because they are often poorly written and lack critical information. Instead, write a summary statement that is specific about your goals and that explains how your skills and strengths will benefit the employer. Here are examples of strong summary statements for two different industries: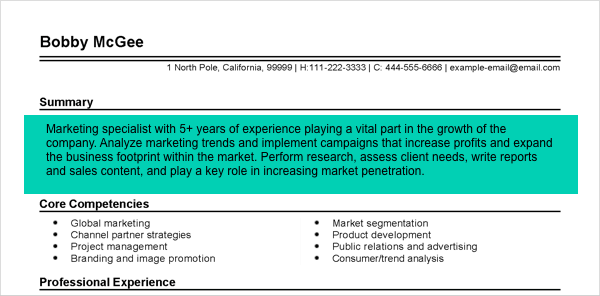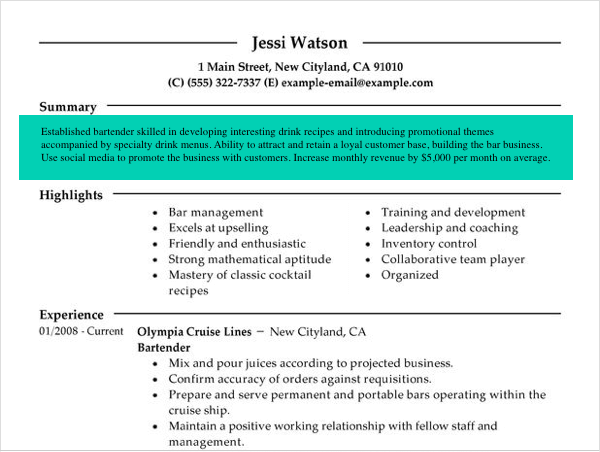 Is There a Right Way to Write a Resume if I Have Little or No Work Experience?
Applicants with limited or no work experience can still create an impactful resume. Since the goal of a resume is to demonstrate your applicable hard and soft skills, these will take front and center in your resume when you are just starting out.For recent graduates and others just entering the workforce, "soft skills," or the personal traits and qualities that make you a great employee, are important to enter on the resume. If you review job postings, you will often see references to soft skills, such as: attention to detail, being a team player, good communications and interpersonal skills, and a flair for customer service.The other skills to mention are your "hard skills," which are the technical skills that you've acquired on the job or through education and training. These should also be prominently included in the resume.To create a career summary for a recent graduate with a degree in web design, we looked at a typical college curriculum and a few sample job ads and came up with the sample entry-level career summary below as well as the sample skills section:
Another important thing to remember is that any job that you have had, even those that were part time, has provided you with experience and skills. Often these jobs contain "transferrable skills" that are important to the employer, and these should be described and listed in the resume.In other words, all experience is important, whether paid or voluntary, as long as it is relevant to the job at hand. If you have been a volunteer in an organization and have accomplishments and experience that is transferrable, learn how to write a resume in a way that allows you to highlight it. You can place this in the experience section of the resume or in a separate section labeled as "Community Service." Ditto for internships, which should also be included. Again, these can be shown in the work experience section of the resume, or you can set up a section called "Internships."
How Many Years Experience Should I Include in my Work History Section?
Typically, a resume should not go back more than 10 years. There are several reasons why we advise this. First, the older the experience, the more dated, the less meaningful it is to the employer. Second, you don't want to be screened out of an interview because of your age. If you show a resume with 30 years of experience, certain assumptions could be made, unfairly, about your relevance and ability to do the job.Learn how to write a resume that works for your experience level. There is a strategic way to list older experience without dating yourself. You can create a section called "Earlier Experience," and list/describe jobs without dating them, or create a resume in a functional format, which allows similar vagueness about years and dates.
Can I Add Volunteer Work on a Resume?
Yes. Experience is experience, whether it's paid or unpaid. All volunteer experience is important to list, just as you would for any other job, especially if you utilized relevant skills.
Should I Add GPA to My Resume?
There is no hard and fast rule about whether to keep or remove your GPA from your resume after college. If you have a high GPA – 3.5 or higher – it can be a good indicator of your skills and work ethic. However, generally, your GPA should be removed a year or two after graduation.
Is a Resume Writing Service Worth It?
The reality of the job market is that, everyday, employers might see dozens or even hundreds of resumes. In this competitive environment, it is crucial for your resume to stand out from the pile. Hiring a professional writer is an investment in your career that will provide that extra bit of polish above the competition. Our partners over at LiveCareer have developed an end-to-end writing service that makes it easy to leverage the know-how and expertise of top resume writers in the industry.If you need a quick kick-start on creating a template first, check out a
resume builder
before committing to a professional. The easy-to-use online tool will create a recruiter-ready resume within minutes.But of course, nothing beats hiring a professional to really give you that edge. Some more benefits include:
Highlight your achievements, emphasizing what you have to offer for employers
Apply with confidence knowing you have a resume that sells your unique story
A professional writer focuses your resume, giving you your best shot at landing the interview
Quality is often guaranteed; if you're not satisfied with the resume, you can get a free rewrite
Learn more about
LiveCareer's resume writing services
.
How Can I Write a Resume That Gets Past an Applicant Tracking System?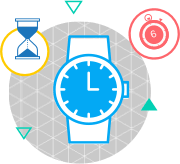 A recruiter spends an average of six seconds looking at your resume, if it gets reviewed at all. Many candidates are eliminated before their resume even makes it into the hands of a human being because they haven't learned how to write a resume that gets past applicant tracking systems (ATS). Many large organizations are now relying on ATSs to screen out resumes. The systems score resumes for contextual keywords and key phrases and assign them a mathematical score for relevance. Only the highest scoring resumes are submitted for human review. This saves recruiters and HR managers time screening irrelevant or weak resumes.
However, there are ways to get past an ATS. Here are some tips:
Keep the formatting simple. Do not use document headers, tables, text boxes, jpgs, or other graphics because they confuse the ATS, and your resume can be rejected.
Use typical resume terms, such as "Qualifications," "Professional Experience," "Education," and "Skills." Unfamiliar headings can confuse an ATS.
ATS software is best at reading Word documents or rich text format. Don't submit PDFs.
Make sure to include keywords lifted directly from the job post in your resume. This is an important detail to remember when figuring out how to write a resume that has impact.
Skip acronyms and instead spell out all titles, certifications, and organization names. For example: Write out Certified Public Accountant (CPA), instead of using CPA.
Don't stuff your resume with keywords. ATS software can detect the stuffing of keywords on your resume so be sure their usage sounds natural.
Repeat important skills and keywords two or three times if you can. This can increase the ranking of your resume. One pro tip: Place keywords into the career summary of your resume. This provides an opportunity to repeat some of the more important skills and qualifications.
Use spell check and a second set of eyes to proofread for spelling and grammar mistakes since, once the resume passes the ATS, it will be scrutinized by the recruiter or hiring manager.
What's the Ideal Resume Length?
While most experts insist that a resume should just be one-page long, my feeling is that there is no hard, fast rule on the length of resumes. First and foremost, as you learn how to write a resume, keep in mind that it is a marketing tool, not a biography. You want your resume to be concise, including key selling points, or accomplishments. Every word in the resume should lead the employer to conclude that you will bring value to the work place. Certain things that you normally would put on the resume can be discussed at the interview.
Here are some general suggestions:

Use a one-page resume if you have less than 10 years of experience. This length also applies if you are making a major career change and your work experience isn't really relevant.

Use a two-page resume when you have more than ten years of experience that is related to the job at hand. Two-page resumes are also appropriate if your job is technical and it is important to list technical knowledge and skills

Consider a three-page or longer resume if you are a senior-level manager or executive with a long record of leadership accomplishments, or if you are in an academic or scientific field and have an extensive list of publications, professional course, licenses, and patents.
Do I Still Need a Resume if I Have a LinkedIn Profile?
Yes! While it is true that some employers will let you apply for a job online with your LinkedIn profile, it's not a substitute for a formal resume. Your LinkedIn profile gives you an online presence and promotes your brand. A strong resume, on the other hand, is the primary door opener to an interview, especially now that employers are relying more on ATSs. I recommend learning how to write a resume that is customized to the specific job you are applying for, ever time you apply for a new role.
Should I Include References on my Resume?
If a job posting doesn't request references, do not list these on your resume. Including references or writing "Resumes submitted on request" at the bottom of your resume was the norm 30 years ago, but not today. Learning how to write a resume that is current means writing one that doesn't include references unless you are specifically instructed to do so. Instead, have three pre-approved references ready in a separate document for when an employer requests references.
What's the Best Way to Attach a Resume: MS Word Doc or PDF?
ATS software often cannot read special formatting like PDFs. For this reason, the safest bet is to send a Word document or a resume written in rich text format.
Does Every Resume Need a Cover Letter?
Yes! Writing a cover letter is almost as important as writing your resume, and even though it sometimes depends on the type of job you're applying for,
knowing what it takes to write one well
will give you that upper edge over other applicants.The main usefulness of a cover letter is that you get to personalize each and every cover letter you send according to the job. It's not just about "translating" your resume into a paragraph form, it's about telling your would-be employer a story that will help them understand why they will benefit from hiring you, so you should definitely take some time aside to nail this topic.Cover letters, when written correctly, can strengthen your candidacy among other applicants, increasing your chances of landing an interview. It also helps demonstrate your communication skills and professional demeanor without actually being there, establishing yourself as an authority in your field, and putting out strong first impressions.
Is There a Tool That Can Check My Resume?
A well-written resume often makes the difference between getting a phone screen or not. We understand the need, and that's why we have partnered up with LiveCareer to bring you an award-winning resume checking tool. The powerful text-tuned resume checker can ensure you come away with an error-free, polished resume in minutes.
Using the resume checker will help you with…
1
Writing analysis – Have you done your best to sell your skills and accomplishments?
2
Grammar – Have you followed grammatical rules and syntax best practices?
3
Verb usage – Have you used the strongest, most powerful words to describe your big wins?
4
Font optimization – Have you made it easy to skim your resume?
5
Content organization – Have you made it easy to move from one section of your resume to another?
6
Length – Have you included the right amount of information based on your experience?
7
Spelling – Have you accidentally included a spelling error that could get your resume thrown out?
Get started
checking your resume now!