A professional resume is essential for a successful job search. Choose a resume from our selection of banking and financial services resume templates. We offer tips and tools for creating interview-worthy resumes for positions such as bank executive, loan officer, tax preparation, or investment banking pro.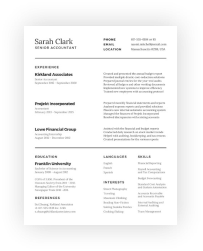 Free Banking and Financial Services Resume Templates for Industry Professionals
See templates and job-specific tips for the banking and financial services industry.
Find the Perfect Banking and Financial Services Resume Templates
The banking and financial services industry is a wide-open field with lots of job opportunities. Job market experts use trends to predict industries with promising futures, and this field has great potential. Investment pros, for example, have a steady growth outlook of nearly 80,000 jobs over the next eight years. In addition to a steady job and nice paycheck, bankers and finance pros enjoy comfortable benefits and have plenty of room to advance.
We offer well-written banking and financial services resume templates to help you get the position you want. Professionals from within the industry have written the templates to ensure accuracy. Review several of our samples, and choose a design that fits your goals. Read through tips about the best practices for resumes. Learn how to write for applicant tracking systems and how to choose skills to include. Our advice and writing tools offer step-by-step guidance through the creation of your resume.
Draw upon our knowledge of industry requirements and your own professional skills to quickly write a strong resume. Boost your career opportunities with our resume templates and writing tips. Whether you want to help clients get into a home or invest in their future, we have the templates to get you there.
Additional Banking and Financial Services Resources
: Learn more about specific job opportunities in the banking and financial services industry. This federal agency provides information about pay, education, and qualifications.
: Get detailed facts about the job outlook and requirements for professionals in banking and financial services.
: Use this database to learn more about professional associations, necessary credentials, and industry current events.