Working with brick and cement is hard physical labor, but strength isn't the only skill required for the job. This sector of construction also demands attention to detail, the ability to cooperate and an eye for design. If you want to land the job, you need to showcase all of these skills on your resume. The masonly worker job outlook shows that positions are on the rise, so you need a great resume to stand out. The best place to start is with one of our brick and cement mason resume templates. In addition to reviewing our templates, review these tips, and you will be in good shape to compete for the job.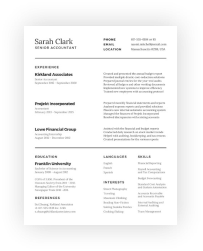 Free Construction Resume Templates for Industry Professionals
Browse templates and job-specific examples of professional construction resumes.
How To Mention Your Brick and Cement Mason Experience
The content of your resume is important, and the way you phrase it is even more vital. You might have comparable skills are experience to another candidate, but if you describe yours using action words and vivid language, your resume will have a greater impact on the reader. This is one principle demonstrated in our brick and cement mason resume templates. You should follow these examples of relevant job experience and use engaging language, such as the following:
• Operate a range of equipment for transporting, pouring, and removing cement
• Complete minor plumbing tasks, such as laying pipe within cement
• Work around landscaping throughout the work area without disrupting
• Demolish brick and cement structure following proper procedure
• Place concrete slabs and apply finish to prevent cracks
Brick and Cement Mason Resume Tips
Looking at the example set by brick and cement mason resume templates can be helpful for getting started on your own. If you are still seeking inspiration, consulting some other resources is a good idea. Take these tips into consideration, too, for additional guidance:
1. Personalize Your Brick and Cement Mason Resume: Don't forget that each job posting is different—even if they are for similar jobs. You should tailor your resume accordingly.
2. Write a Powerful Summary Statement: Recruiters want a quick idea of who you are, and a powerful professional summary provides just that. Write a statement indicating your professional goals and qualifications.
3. Use Specific Examples and Experiences: Telling an employer that you can do something is good, but giving an example of a time when you have is better. Always demonstrate instances of success in prior positions.