You know you have the skills to be a successful construction and building inspector, but to score an interview, you need to make a hiring manager believe you're qualified. Your resume is your chance to prove you have what it takes to succeed.
In a competitive job market, you can't just slap together a page with boring descriptions of your skills and work history. To create a well-organized document that makes an impact, study the details of our professional building inspector resume templates. Then, use our writing tips to craft your own version.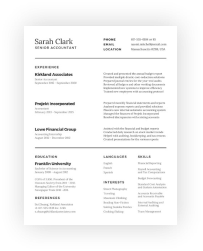 Free Construction Resume Templates for Industry Professionals
Browse templates and job-specific examples of professional construction resumes.
How To Mention Your Building Inspector Experience
How do you make a hiring manager take notice of your capabilities? You need to use the right language when describing your qualifications. As you can see in our building inspector resume templates, strong action verbs are very effective. You can also incorporate terms straight from the job ad. Check out these examples:
• Complete comprehensive inspections of buildings during construction to verify quality, safety, and adherence to building codes
• Verify correct installation and placement of plumbing, electrical, and HVAC systems, according to blueprints and permits
• Communicate with government authorities, construction personnel, and landowners to ensure compliance with relevant building regulations
• Make detailed notes of areas and systems that fail inspection, and provide clear instructions for fixing code violations
• Create clear and thorough logs of all inspection findings and deliver them to government agents, owners, and project managers
Building Inspector Resume Tips
Once you've created your first draft, you can compare it to our building inspector resume templates to ensure you have the correct formatting and content. Then, it's time to fine-tune your writing. Follow these basic tips to ensure your final copy is ready to make an excellent first impression.
1. Personalize Your Building Inspector Resume:
To convince an employer you're the best candidate, align your resume with the job listing. Use terminology from the ad to describe your skills and qualifications.
2. Write a Powerful Summary Statement:
A well-written summary statement can grab a reader's attention. Briefly describe your most impressive qualifications, and then add more details in the following sections of your document.
3. Use Specific Examples and Experiences:
Avoid the common mistake of simply listing your duties at previous jobs. Instead, describe a few key accomplishments to indicate the level of performance a potential employer can expect.