Many businesses rely on customer service professionals who can help make sure patrons have the best experiences possible. You need to demonstrate that you can handle all the responsibilities of the given position without even meeting the employer initially. See what your application should include by reviewing our customer service representative resume templates.
You will most likely find at least a couple of differences between your resume and the professional ones on the website. Adjust your application accordingly, and in no time at all, you will probably see a difference in the number of phone calls you receive from hiring managers.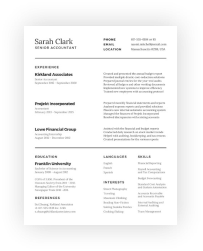 Free Customer Service Resume Templates for Industry Professionals
Browse templates and job-specific examples of professional customer service resumes.
How To Mention Your Customer Service Representative Experience
Regardless of how much experience you have, you need to show you can handle all that customer service representatives do. The customer service representative resume templates offer some ideas, but you also need to follow the proper format. That consists of using strong action words as well as keywords and phrasing that mirrors what you find in the job ad.
• Resolve any customer's complaints by adjusting bills, refunding money, or exchanging merchandise
• Solicit sales of new products and services by explaining the advantages of making a given purchase
• Compare disputed merchandise with invoices and the original requisitions
• Contact customers to notify them of any planned adjustments or for claim investigation results
• Keep records of all customer transactions and interactions, including complaints, the action taken to resolve the complaint, and the details of inquiries
Customer Service Representative Resume Tips
Start your next job search by reading through the customer service representative resume templates. After that, you need to do more research by understanding exactly what these templates do so well. The explanation typically involves these actions.
1. Personalize Your Customer Service Representative Resume: The document you have now should serve as a foundation. You want to update it for each unique job opening so that it is perfectly suitable for what the hiring manager needs.
2. Write a Powerful Summary Statement: It only takes professional hiring managers a few seconds to decide whether an application is good enough. Therefore, the summary statement at the top needs to be as strong as you can make it.
3. Use Specific Examples and Experiences: You likely have tons of professional stories about what you achieved at previous workplaces. Do not be humble on your resume; include as many accomplishments as you can that demonstrate your skill set.