Technical support positions often call for a combination of general and specialized technical skills and communication abilities. Candidates pursuing employment in this field should strive to provide employers with relevant background information and clearly indicate that they meet all of the requirements for a particular position.
We provide career-specific writing pointers to show you how to reference your past experience in ways that can help you get hired. We also offer tips on strengthening other major sections of your resume. Find inspiration for the content and formatting of your document from our collection of real-world technical support resume templates.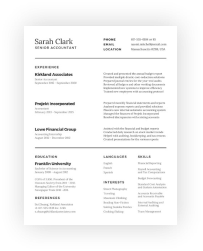 Free Customer Service Resume Templates for Industry Professionals
Browse templates and job-specific examples of professional customer service resumes.
How To Mention Your Technical Support Experience
Employers look for indications that an applicant could be the right candidate to fill a position. Identify significant keywords in the description of the technical support role you want, and then use these terms throughout your resume. Describe your accomplishments and responsibilities in previous positions with action words. See the following sample responsibilities and examples of work history sections in our technical support resume templates.
• Answer user questions and solve problems involving the use of systems, hardware, software, or networks
• Initiate and clear service tickets while maintaining detailed records regarding issue resolutions and ongoing repairs
• Monitor performance of enterprise systems, ensuring that software and hardware are functional, updated, and secure
• Reference user or administrator guides, operational manuals, or troubleshooting protocols for information about technical issues
• Develop training procedures for technical support employees including guides for service agents on various tiers
Technical Support Resume Tips
Employers spend an average of six seconds reviewing each application. Make the most of your summary statement and list of skills by customizing these early sections for the position you are seeking. Check out our technical support resume templates for ideas, or compare your materials to other real-world submissions.
1. Personalize Your Technical Support Resume: Avoid submitting the same resume to more than one opening. Prioritize your strongest qualifications for each role to respond to the major requirements for the technical support job you want.
2. Write a Powerful Summary Statement: This statement is the first section a prospective employer is likely to see. Write a few short phrases emphasizing the amount of experience you have and your most valuable qualifications.
3. Use Specific Examples and Experiences: Make an impression on the hiring managers or recruiters who read your resume by being specific. Look for ways to mention metrics or statistics that support your ability to succeed.