Until you get to an interview, your resume best describes your ability to do the job you want. That means your experience needs to come across loud and clear. With the provided acupuncture resume templates and the following tips, your resume has a better chance of standing out in a sea of other applicants.
Templates and examples show you how to organize your resume in a professional and engaging way. With all the tools we provide, you can create your resume in minutes. One way to start is with our easy-to-use resume builder.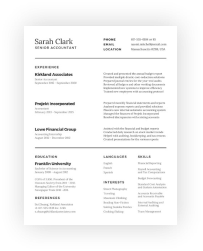 Free Healthcare Resume Templates for Industry Professionals
Browse templates and job-specific examples of professional healthcare resumes.
How To Mention Your Acupuncture Experience
Your biggest hint at how to word your acupuncture experience exists in the job posting. When you use this to influence your resume, as in these acupuncture resume templates, you look highly qualified to a recruiter or hiring manager. You can also look over these example job duties to get an idea of what to put in your own resume.
• Analyze test results and research alternative medicine procedures to provide patients with effective treatment options
• Assess general physical, mental, and spiritual condition of patients through routine exams and thorough questionnaires
• Create a safe, comfortable environment for patients to relax in during diagnostic and treatment procedures
• Used physical therapy techniques to help patients recover after an injury, surgery, or intense medical treatment
• Maintained detailed and accurate records protected by a digital security system to protect patient privacy
Acupuncture Resume Tips
Since your resume needs to stand out, an acupuncture resume template is a good way to get a professional start. Here are three other tips to take your resume to the next level and improve your job chances:
1. Personalize Your Acupuncture Resume: The first way to personalize your resume is to include information unique to you that doesn't show up in a template. The second way is to use information from the job posting to pepper your resume with key words and phrases.
2. Write a Powerful Summary Statement: Your summary statement should summarize your skills and qualifications in an engaging way. You can increase your chances of making a good first impression by tailoring your summary to each job you apply for and using plenty of action words.
3. Use Specific Examples and Experiences: Relate your experiences to the job requirements with specific success stories from your work history. If you need multiple resumes to apply for different jobs, choose these experiences based on the job you're applying for.