Like most healthcare positions, therapists have to find a balance between dispassionate treatment and thoughtful care of their patients. Striking a balance is as important during your job search as it is in your career. The right therapist and practitioner resume template not only demonstrates your valuable technical skills, it also shows the interpersonal ability you bring to work. Understanding effective writing technique is easier than you think and allows you to create a resume that's attractive to hiring managers.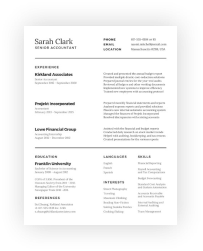 Free Healthcare Resume Templates for Industry Professionals
Browse templates and job-specific examples of professional healthcare resumes.
How To Mention Your Therapist and Practitioner Experience
There's more to creating a great work experience section than putting down your former positions and haphazardly listing your job duties. Beginning each bullet point with an action verb makes you seem more active on the job. Here are some examples of how to more effectively write the job duties when using the therapist and practitioner resume templates:
• Assist patients with therapy routines and provide emergency care if necessary
• Communicate with patients and families about the proper use of therapy techniques, equipment, and other medical information
• Work in conjunction with doctors, nurses, and other healthcare professionals to provide patient care
• Clean, examine, and maintain therapy equipment to ensure efficient and safe operation
• Oversee doctors' orders, laws, and health regulations during all therapy sessions
Therapist and Practitioner Resume Tips
There are a few key techniques you can use along with the therapist and practitioner resume template to make hiring managers take notice. Even if you already have a resume, you only need to make a couple modifications to produce a stronger result.
1. Personalize Your Therapist and Practitioner Resume:
Customize your resume for each new position. Read the job description for specific skills to see which ones need to receive top billing on your application.
2. Write a Powerful Summary Statement:
Speaking of top billing, hiring managers read your summary statement before anything else, so it needs to be clear and compelling. Include your best traits and abilities from the job listing.
3. Use Specific Examples and Experiences:
After reading piles of applications, potential employers aren't interested in ambiguous language. Cite the awards and instances that best show off your qualifications.