If you are a new jobseeker, you cannot underestimate how important your resume is. In fact, many job experts say that the resume is the most important part of any job application and in some cases employers use the resume exclusively to make their decision. So the real question is what can you do to make your resume stand out?
Keep in mind that the purpose of your resume is to portray you as an effective and quick worker. A organizational development resume template can help you see exactly the kind of resume that accomplishes that.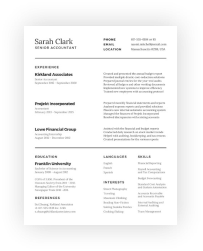 Free Human Resources Resume Templates for Industry Professionals
Browse templates and job-specific examples of professional human resources resumes.
How To Mention Your Organizational Development Experience
While your entire resume is important, it may be surprising to hear that most employers consider the experience section to be the most important. For this reason, you should focus on both the content and the organization of this section. Review our organizational development resume template for tips, such as including strong action verbs.
• Work with entire organizational development team to drive change and improvement on a corporate level
• Develop programs for employees to enter into, and receive necessary training and improvements to operational practices
• Oversee interactions between employees and management staff on a daily basis to facilitate better operations
• Facilitate monthly training programs for new employees, ensuring all staff understands and meets employee expectations
• Evaluate corporate departments, identifying and implementing changes to make significant improvements to daily operations possible
Organizational Development Resume Tips
It takes a lot to enter the organizational development field. Your first step should be to review our organizational development resume templates, but what do you do after that? We have put together a few more steps to guide you further. Keep these in mind while beginning the writing process.
1. Personalize Your Organizational Development Resume:
You need to strive to personalize your resume for each new application. Incorporate skills and the general language of the job description to appeal to each employer specifically.
2. Write a Powerful Summary Statement:
The first section of your resume is the summary statement. This is what determines the first impression employers have, so it is especially important to be as coherent and concise as possible.
3. Use Specific Examples and Experiences:
The best way to easily and quickly improve your resume is to include real examples for your actual working experiences. This has the added benefit of making the information more credible.