Careers in liberal arts and humanities call for specialized skills. Browse our humanities and liberal arts resume templates to see how to write your resume. We have designs for authors, professors, linguists, and researchers. You can also find resume layouts for teaching assistants and early career candidates.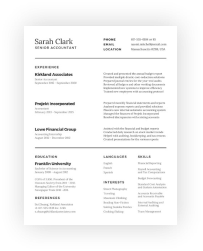 Free Humanities and Liberal Arts Resume Templates for Industry Professionals
Find the best humanities and liberal arts resumes with content from real jobseekers.
Find the Perfect Humanities and Liberal Arts Resume Templates
The job market for humanities and liberal arts is very competitive. A solid resume can help you find a teaching position or pursue another profession. If you are looking for ideas crafting your own, start with our large collection of humanities and liberal arts resume templates.
Industry experts point out that many employers consider training in these areas an asset. The market for humanities and liberal arts teachers is growing faster than average. At the same time, this evolving field calls for candidates to keep up with new trends, such as digital humanities.
No matter what kind of job you are seeking in this broad field, you will need to present yourself as a professional. You can customize any of our templates to create a polished document. They feature job-specific content written by real jobseekers. We also make it easy to format and save in any major file type.
Whatever specialization or occupation you want to see resumes for, we have the right template for your job search. Write a resume that lets you stand out as a strong contender for any teaching or writing position. These templates include sections and skills that will help you land the job you want.
Additional Humanities and Liberal Arts Resources
: Learn more about the bright outlook for postsecondary English language and literature teachers from an occupational guide that lists skills and statistics.
: This job site maintained by the Chronicle of Higher Education posts humanities and liberal arts jobs.
: This website lists the best jobs for humanities and liberal arts specialists based on salary potential.