When searching for a horticulture and gardening position, one of the most important parts of your job hunt is your resume. In fact, depending on the hiring manager, it may be the only piece of information reviewed before deciding whether to call you for an interview. So what can you do to make your resume stand out from all the other candidates?
Take a look at our horticulture and gardening resume template. This example resume can show you exactly what your own should look like. You can discover the right format, structure, word choice, and experience expectations.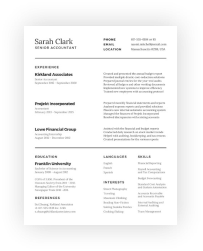 Free Natural Resources And Agriculture Resume Templates for Industry Professionals
Browse templates and job-specific examples of professional natural resources and agriculture resumes.
How To Mention Your Horticulture and Gardening Experience
Most resume experts agree that the experience section is the most important part of this document. Employers want to know what kinds of previous jobs you had and what your responsibilities were. You need to carefully manage the format as well, following our horticulture and gardening resume template. Remember to include strong action verbs, and refer to the language from the job listing to strengthen your application.
• Ensure the entirety of garden grounds are well maintained and beautiful on a daily basis
• Create and adhere to a daily gardening schedule that takes all individual plant needs into account
• Direct tours through the ground gardens, pointing out notable plants and providing interesting information throughout
• Oversee other gardeners, evaluate their work, and ensure workers follow precautions to maintain plant health and beauty
• Establish a watering balance so no plants drown but all receive the adequate water needed
Horticulture and Gardening Resume Tips
So you have taken the time to read our horticulture and gardening resume template and thought carefully about what aspects you should include in your resume. What now? You are ready to begin writing, and keep these steps in mind. They can help you improve your chances of landing a horticulture job.
1. Personalize Your Horticulture and Gardening Resume: A personalized resume is much stronger than a generic one. To personalize it, review the job description and try to match the expectations found there.
2. Write a Powerful Summary Statement: Do not forget how important first impressions are. This is why your summary statement is so crucial. After all, it is the first thing hiring managers read on your resume.
3. Use Specific Examples and Experiences: You can easily improve your resume by including real metrics and examples from your working experience. This adds credibility and emphasizes whatever good qualities you want to exhibit.