When searching for an agriculture management position, you cannot afford to underestimate how much stock the hiring manager puts in your resume. This document may seem simple, but it most likely will determine whether you get called for an interview more than any other aspect of your application.
So what can you do to make your resume as strong as possible? You may wonder what is the best way to communicate that you are a quick and effective worker. Review our management resume template to see what a truly eye-catching resume looks like and you can implement the same strategies.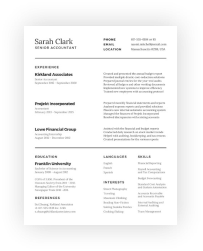 Free Natural Resources And Agriculture Resume Templates for Industry Professionals
Browse templates and job-specific examples of professional natural resources and agriculture resumes.
How To Mention Your Management Experience
The experience section is one of the most important parts of your resume, and its format is nearly as important as the content. Otherwise, it may be difficult for employers to understand the information. Our management resume template reveals the best way to organize this section, such as by including many strong action verbs and mirroring words used in the job ad.
• Oversee natural resource, agricultural, and logging operations, watching all employees carefully for errors or potential improvement
• Create schedule for workers, consistently taking individual talent and labor costs and goals into account
• Ensure workers receive their paychecks on time and for the right amount, through appropriate payment methods
• Meet with other supervisors, workers, and higher management to coordinate plans and goals and exchange information
• Record progress and compile information into monthly reports and presentations given to management and operational staff
Management Resume Tips
If you want to put together the strongest resume possible, your first step should always be to review a management resume template. After that, there are a few key steps you can take to strengthen the document as much as possible. We recommend keeping these tips and strategies in mind when jumping into the writing process.
1. Personalize Your Management Resume:
Focus on incorporating skills and other aspects from the job description in your resume. Doing so personalizes the document for each new job opening you apply for.
2. Write a Powerful Summary Statement:
Do not underestimate how important your summary statement is. Because it is the first section, it determines the first impression readers have of you.
3. Use Specific Examples and Experiences:
Think about what qualities you want to demonstrate to readers. Then, you can choose specific examples from your work history that emphasize these traits and include them.