Because home health aides are responsible for their patients' comfort and quality of life, a calm, friendly personality is essential for success in this position. While it is important to showcase your technical and medical abilities on your resume, it is equally crucial to emphasize your communication and interpersonal skills. Learn how to do that and more with the help of our home health aide resume templates.
Don't let your resume be a collection of your previous duties. Strategically create a resume you are confident in. Entice hiring managers with your character as well as your professionalism.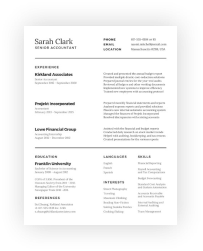 Free Nursing Resume Templates for Industry Professionals
Browse templates and job-specific examples of professional nursing resumes.
How To Mention Your Home Health Aide Experience
The style of language used in the job description is typically characteristic of the type of language the company is looking for on candidates' resumes. Using casual language and neutral, dull vocabulary when the job description used formal language can cause a hiring manager to overlook your resume. Look at the convincing, active language of the writers of our home health aide resume templates.
• Provide superior patient care by ensuring their living quarters and bodies remain clean and well-kept at all times
• Promote patients' physical and mental health through conversation, light physical activity, and other approved forms of entertainment
• Assist patients with prescribed physical therapy routines or exercises and ensure they take all prescribed oral medications
• Keep accurate records of patients' problems, condition, progress, and care and report findings to the case manager or supervisor
• Instruct patients and their families on proper care techniques, healthy diet routines, and living with a medical condition
Home Health Aide Resume Tips
As a home health aide, you give tips to your patients. Using these simple resume tips is another way to improve your document and impress hiring managers. When you read through some of our home health aide resume templates, think of ways to incorporate these tips into your own resume.
1. Personalize Your Home Health Aide Resume:
General or common language on your resume will not help you stand out. Instead, use keywords found in the job description and mirror the language there to grab a hiring manager's attention.
2. Write a Powerful Summary Statement:
Most hiring managers spend about six seconds reading a resume unless it is exceptionally convincing. That means you need to captivate your reader with your summary statement so the rest of your resume gets appropriate consideration.
3. Use Specific Examples and Experiences:
Rather than tell your reader you can perform the required tasks, provide a brief story about a time when you successfully completed necessary duties and the positive outcome it produced.